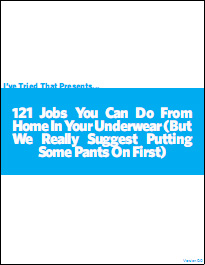 If you are tired of "online business" gimmicks or long, gas-guzzling commutes to the office, 121 Jobs You Can Do From Home is for you. The guide is a directory of 121 companies that are currently in need of work at home employees! Each company has been personally screened by me. These companies are looking for employees to fill postions like these:
Freelance writers
Editors
Proofreaders
Audio-to-type transcriptionists
Data entry workers
Virtual assistants
Sales and marketing representatives
Customer service agents
and many more
Click here to see a sample company report now!
That was just ONE company. There are 120 other reports just like it! Best of all, this guide will be continually screened and updated. New companies will be added and you'll be given access to every update for life!
Enter Your Email Below to Download A Sample Of Our Guide for Free!
Enter your email address below and click submit, and we'll send you a link where you can download your sample guide.