Earlier in the week we wrote about Moola.com and how you can play games to make money. The response was overwhelming and we've sent out a little over 100 invitations! Feel free to comment below if you've signed up. We want to hear about your experiences.
Invitation Issues
Moola did experience a pretty big delay in distributing invitations. It's likely that if you requested an invitation on Tuesday than you may have not received it. Send me an email at: Steve [at] IveTriedThat.com and I'll resend your invitation email. For all of those who missed out on Tuesday, don't worry as we still have over 150 invitations available! Click here to request an invitation.
Search and Win – Earn extra money!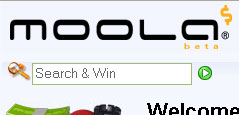 If you login to your Moola account you'll come to your account overview. Now if you look to the top-left corner of the screen, you'll see the Moola logo and directly underneath that is a 'Search & Win' textbox. Type any search term at all in that box, and you'll be able to boost your account with a random cash prize. You can do this up to four time per day; however they only allow you to win once every couple of hours. I highly suggest you login and try it out.
Click here to sign up with Moola.com today!
There's only ONE program I really recommend. It helped me turn my 'hobby' into a $10,000+ per month money making machine. Click here for the exact formula I followed.