We've been threatening and promising for a couple of months, and it's finally here. The Complete Guide to Telecommuting, version 2.0, is sitting on the shelf waiting for you to drop in and pick up your copy. But hurry! There are only a limited number of books available! You see the countdown timer? Only 29 seconds left! When it hits 0:00, the book will no longer be for sale! Act now!
Okay, those things are lies. All of them. How can we have a limited number of ebooks? We could ship a million of them and be really happy, without a single worry about supply. I was just trying to fit in as many online marketing cliches as I could.
The Complete Guide to Telecommuting
If you're new to I've Tried That, The Complete Guide to Telecommuting is our ebook that shows you how to use the Internet to find genuine jobs you can do from home. It teaches you how to avoid the gimmicks and how to land real jobs from real people that will help you earn a couple hundred bucks per month or more using skills you already possess.
This version is a huge improvement over version 1.0. It looks a lot better and contains new content on managing your telecommuting work, how to approach your boss to let you work from home, and how to grow from part-time telecommuting work into a full-time freelancing business.
We've also kept our multi-tiered pricing model, but instead of simply letting you decide how much you want to pay for the guide, we're offering several package purchase options as well as add-on products to supplement your telecommuting resources. You can buy just the guide, or the guide and a guide about income taxes as a freelancer, or both of those with a trial membership to I've Tried Telecommuting. In the future, you can purchase professionally designed resume and cover letter templates. You pay more, you get more value. Click here to check it out and to get your package today.
Is The Guide for Me?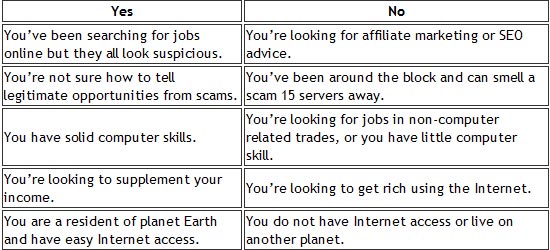 Can I Upgrade?
If you already purchased the first version of our guide, and paid more than $5.95, you can upgrade to 2.0 for free. Just login to your account and the new guide will be waiting for you. If you paid $5.95 or less, you can upgrade by paying the difference between your purchase price and the new package you want to buy. (For example, if you paid $5.95 and want the new guide only, send $9 via PayPal and we'll send you the new version. Send your payment to: steve[at]ivetriedthat[dot]com)
Sounds great. Point me to it.
You can find the guide in our freshly-designed store. We moved away from the traditional online sales page and wanted to incorporate a more aesthetically pleasing environment for our products. Be sure to leave your opinion on the new product and store front. Help us move forward by leaving comments below.
There's only ONE program I really recommend. It helped me turn my 'hobby' into a $10,000+ per month money making machine. Click here for the exact formula I followed.