It's back-to-school time, and you know what that means: Kegger! You will be needing money for books, food, and those increasing student activity fees. Sure, you might be flush with cash right now, thanks to the generosity of your folks; however, those funds will quickly run dry after a few weeks of paying for your own meals and trips home.
So, here are several ways you can get started making money online and otherwise to pay for your student needs. These methods do not require too much time or long-term effort either, making it possible for you to make a quick few bucks and then get back to what you are really supposed to be doing while in school: partying studying.
Bonus: Watch videos and search Google
The company SwagBucks is always looking to pay its members for using its search engine and to watch TV online. You can get paid for something you're already doing online. Not a bad gig at all.
Create a free SwagBucks account and you can get paid to do just about anything you already do online. It's free to join, you get a $5.00 offer just for signing up, and if you use the code IVETRIEDTHAT3 you'll get a surprise cash bonus on top of the $5.00.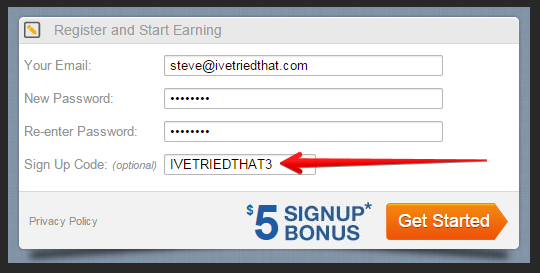 1. Perform microjobs.
Sites like Fourerr and Fiverr enable you to creatively sell your services and make a few dollars in the process. The services can be things like creating a logo or image, writing/editing an article, researching, transcribing audio, etc. If you have lots of Twitter followers or Facebook friends, you could offer social media promotion via Follows or Likes. Through task runner sites like TaskRabbit, you might offer local services like standing in line and picking up tickets to an event or dog-sitting. Click here if you want to learn more about making money with microjobs.
Agencies and product manufacturers recruit consumers to participate in either online or in-person focus groups to analyze consumer shopping behavior and attitudes. These focus groups can be quite lucrative and pay up to $100 per hour; non-monetary incentives include gift cards and corporate schwag. Also, demand for college students at focus groups is rather high because they fill a rather limited demographic. However, participants have to dependable, logging in or showing up at the focus group site each week or whenever they're requested to do so.
3. Fill out online surveys.
Companies are endlessly offering surveys to consumers to fill out but not all these surveys pay money. However, PaidViewpoint is one online survey site that not only pays money per each completed survey, it also promises to not kick you out once you are invited to and start completing a survey.
Other paid online survey sites include American Consumer Opinion, Cash Crate, NPD Online Research, Palm Research, Squishy Cash and Toluna. In some cases, your "pay" from these survey sites may include points that are then used to purchase gift cards- but you can always turn around and sell those gift cards for actual money on sites like Cardpool.
4. Sell your essays and assignments.
Online sites that pay for school papers have gotten a bad rap because college students can use them to purchase ready-made assignments and pass them off as their own. Plagiarism and cheating have always existed, and it's doubtful that eradicating school paper sites will stop that trend. However, some students do purchase school papers in order to study from them and/or use them as resources.
This is also the logic behind looking up and referencing sources while you're writing a paper of your own. In any case, sites like SmartEssay, Gazhoo and Constant Content allow you to upload and price your academic papers, which can result in a few extra tens and twenties in your coffers.
5. Provide study services.
College students just starting out with a fresh load of classes and assignments may be in need of tutoring, a study buddy, assignment review and critique, etc. If you've already taken a few classes, and especially classes in difficult subject areas like math and science, consider posting an on-campus flyer or Craigslist ad offering your academic skills for a given fee. Not only will you make some money but you'll help ensure that a fellow student doesn't fail a class for lack of help. Also, nothing helps you retain information like trying to teach it to others.
6. Make and sell stuff.
If you have  a flair for quirky sayings or graphic design, consider selling stuff online that you help create and design. This stuff can be anything from T-shirts to coffee cups to coasters and the selling platform can be a site like CafePress or Threadless. If you can make the entire item yourself from scratch, consider selling it on Etsy and Bonanza.
The best thing about these sites is that they might charge a small, nominal fee to list your items, but you are given a 60-day or even longer time window in which to sell those items. That beats Ebay's typical 7-day auction period hands-down and also allows you to build a fan base for your items.
Big schools, and especially schools with hospitals, typically have entire research departments devoted to conducting human research studies and/or clinical trials on investigational drugs. If you're hesitant about being poked and prodded or fed strange medications, try to join the studies as part of their control groups.
Studies may be listed online on your college's website or through third party sites like ClinicalTrials. Sometimes, research trials may be announced via flyers posted on your academic department's bulletin board. Research studies are generally quite lucrative, so keep your eyes peeled for these money-makers.
Summary
Just because you are a college student doesn't mean you have to be poor and mooching off your folks. There are many ways you can generate a few bucks or even a side income as a college student. For some additional inspiration, please click here to find out how one poor graduate student generated a second income.
There's only ONE program I really recommend. It helped me turn my 'hobby' into a $10,000+ per month money making machine. Click here for the exact formula I followed.