Want to get regular scambusting updates? Sign up for e-mail or RSS updates.
Hmm…a philosophical question: do I review the program itself, or the website that promotes (and presumably profits from) the program? I'll go for a minimalist approach and let you draw your own conclusions, except when I draw them for you with such comments as "Work at home sites shouldn't promote jobs that are not legitimate." If I were making such a judgment, you understand. Not that I am right now.
Where to start in my assault on the Data entry jobs juggernaut? At the top. A Google search for "data entry work from home" brings more than 82 million results, the first of which is a jobvertise.com site, which led me to workathomecareers.com, which is prominently displaying Fusion Cash banners. I'm suspicious of banners, so I went for the first sponsored link on the page that mentioned "data entry." It led me to Fusion Cash.
Uh-oh, another banner, featuring fistfuls of cash and promising "Free Money." Red flags all over the place. But I try stuff. That's what I do. Here's a data entry job promising easy money, and I'm the sworn enemy of all such scams. I had to sign up. The page has some of the elements Steve and I have warned you about, such as the banner, claims about you setting the hours and deciding how much money you want to make.
Here's what I learned. Though the link that led me to Fusion Cash said, "Data entry clerk needed," I think it was slightly misleading. If you follow through on the application and FAQs, you'll see that you're getting paid to do data entry, all right, but the data you're entering is your own, and the "forms" are applications to sign up for programs, trial memberships, and so on. To their credit, workathomecareers.com does not try to hide this fact. They spell it out for you clearly enough in the FAQs and "more info" links. So if you have no qualms about giving out your personal info and inviting junk mail to your virtual and literal boxes, and can get others to do the same (they have a referral program), you can probably indeed make some money. Pizza money, probably. Not pay-the-mortgage money.
So I signed up. Here's how it works. You select offers that interest you (some typical ones are shown in the screen cap here; click on it to magnify), sign up for them, follow the conditions imposed by the offer, and then your Fusion Cash account gets credited for the amount shown in the offer, anywhere from 0.25 to $25. You have to earn a minimum of $25 to cash out.
But I hit a couple of snags. First is this little stipulation in the terms and conditions:
Users must try only those offers in which they have a legitimate interest. If a user is found, in FusionCash's sole discretion, to be in violation of this provision, his/her earnings will be forfeit and his/her account disqualified.
See, I don't have a legitimate interest in any of what they've got. I am generally averse to marketing gimmicks and consumerism. And this program is consumerism on broadband steroids. I just can't proceed, knowing I have no real interest in their stuff and that I'll have to give my credit card info to dozens of companies just to reach the $25 cash-out minimum.
So I'm done. Somebody could probably make some money with Fusion Cash, but that somebody ain't this body. Anybody wanna buy my membership? Act now! A limited-time offer for $75 $25 $1.25!
How Does Fusion Cash Compare?
I did a review of a program called SwagBucks a few months back and just wanted to give you guys a little update on my progress, show you how much I've actually made with the program, and give some tips on how to quickly start making some money with them.
A quick overview: the concept behind SwagBucks is that they'd pay you for using their search page to browse the web. They make money through Google's sponsored results and then pass some of their earnings on to you in the form of SwagBucks. You can also make money by filling out surveys, shopping online, watching videos, and many many more ways.
All you have to do is use their search page and every so often, you'll be awarded SwagBucks which you can redeem for cash or gift cards.
The best part is the SwagBucks search bar uses Google, so you'll get the same results you're used to, but now you have a chance to make some extra money. It takes no extra effort on your part either. It's a fun way to make some extra money each month.
And you can join today and see for yourself why I rate this program so highly, absolutely for free. Plus, you get a free $5 bonus just for signing up.
There are a lot more ways to earn, but searching is by far the easiest and the quickest. You'll see the other ways in just a minute, but first…
Proof SwagBucks Actually Pays
Here's an inside look at most of the orders that I've placed with SwagBucks since I've joined. This is a look inside my own personal account. I've cashed out and received $890.00 worth of gift cards so far.
Now, there are thousands of items you can spend your SwagBucks on or you can even redeem them for cash. I chose the giftcards because they're a little bit cheaper than the cash redemption so you get more value for your SwagBuck, so to speak. Plus, I shop at Amazon often and this really helped cut down on costs.
Here's a look at my total earnings so far:

1 SwagBuck roughly equals 1 penny. So I've made approximately $928.78 since joining!
And here's a look at just some of my rewards so far!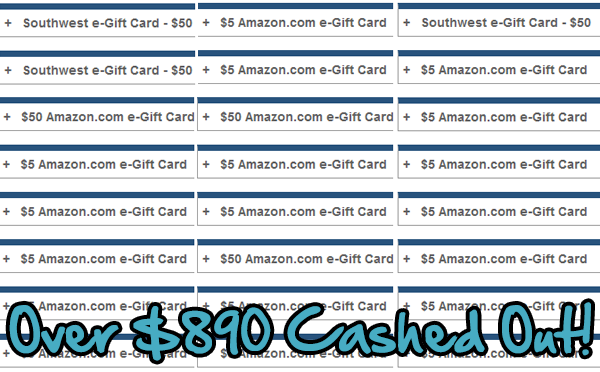 Oh, and did I mention this was all free?
Making money online has never been easier...
And this free video will show you exactly everything you need to do to get started. Click here to watch it now.
The Bottom Line
SwagBucks is a scam free way to make extra money online. It's an excellent alternative to Fusion Cash and you'll make money much faster. I've been a member for about six months now and I've been paid over $890. It's completely free to join and will help you bring in some extra cash by doing things you already do online. What more could you want from a program?!
SwagBucks is awesome and I highly recommend you click here an create an account right now. You get a $5 bonus offer just for signing up.