6 Figure Yearly Income, 1 Simple Blueprint…
Steal My Exact Blueprint That Earns Me Over 6-Figures Online Annually
I've have been helping others build full-time incomes online since 2007. Let me share with you the secrets of my success...
First, I want to give you some background as to who I am. My name is Steve Razinski and I'm pictured below on vacation in Hawaii with my wife Amanda.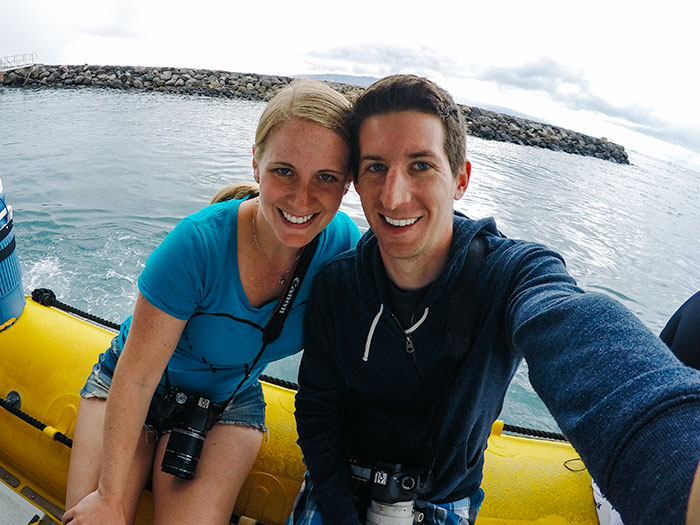 I founded I've Tried That in 2007, over 10 years ago. Running this is my full time job and I review programs that claim to help you make money online.  Over that time, I've helped millions of people save their hard earned money by steering them clear of scams and at the same time, directing them toward genuine opportunities.
This website alone generates over $200,000+ per year for me. I have the knowledge, skills, and experience to know what does and does not work online.
Over the years, I've narrowed down the three things you need in order to build and grow a business.
A Website: This is your presence online. Before you say to yourself "building a website is too complicated, this isn't for me," just know that you can have your own website up and running in as little as 30 seconds. If you know how to send an email, you can build your own website.

Training: Once you have your website, you need to know what to do with it. You will need step-by-step guidance on how to turn your ideas into money-making realities.

Support: Finally, and most importantly, you are going to need help. You will need someone to turn to when you have questions.
You need a combination of all three to make it online. Today I'm going to show you the best possible service that provides all three of these necessities.
By recommending a program that includes training and support I can ensure that beginners, regardless of experience, can get their start online and work towards building their very own business.
I've found that this process is the key to making money online:

That's The Process, Here's How It Works:
Let me show you how this works with an example.
I wrote a post on I've Tried That a while back where I reviewed a "wake-up light."
The product was a Philips HF3470 Wake-Up Light.
At the bottom of that post are two links that link to the light for sale at Amazon.com.
Any time someone clicks on one of those links and buys ANYTHING (not just the light, ANYTHING) at all at Amazon.com, I receive a commission.
Very cool, right? This is called Affiliate Marketing.
A lot of people have read my review. In fact, my website shows up first in the Google search results for 'Philips HF3470 review'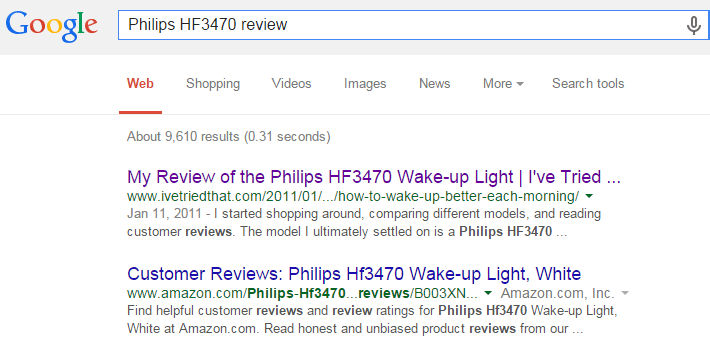 That review accounts for about 7 sales of wake up lights a week on average! I usually earn about $50/week from that one review alone!
That's an extra $200 a month for a post that took me maybe 45 minutes to write. This isn't even accounting for any other items sold at Amazon that I may have received credit for. That number may actually be much higher!
Below is just a screenshot of one month of orders on just the wake up light alone. I highlighted the last column because that is how much I was paid per order.

And this doesn't even include other products that may have been purchased at Amazon that I got credit for!
The Best Part Is That I Don't Sell Anything.
I help people find the information they're searching for online.
I deliver quality information that helps people make decisions and then send them over to a store like Amazon who handles the rest.
Think of how many trillions of searches that are done at Google or Bing or Yahoo and how many billions of dollars are spent online.
Starting to see the value of Affiliate Marketing?
This is very powerful stuff!
There are affiliate programs in almost every imaginable niche.
Nearly every major company out there has an affiliate program. You can partner with companies like Walmart, Amazon, Target, Nike, Best Buy, eBay, Apple, Microsoft, HP, Dell, Nikon, Canon, Sony, Samsung.
The list is really endless.
Your goal is to find your own little niche on the web, partner with a company, and incorporate their ads on your site.
---
Get Your Website, and the Training & Support Needed to Build Your Online Business for FREE.
Now that you know you'll need a website, training, and support you are probably wondering where to turn.
Here's your solution: Wealthy Affiliate.
Wealthy Affiliate is a platform to build your website and an online community to help you with training and support along the way. They will provide you with a website, the tools to build & develop it, and a place to turn to when you have questions.
Wealthy Affiliate is the best possible solution for beginners to learn how to start their businesses and generate an income from home.
I joined WA back in 2009 and they have been my top recommendation for beginners to learn how to build a business online ever since. They've held that top spot for over EIGHT YEARS now and they consistently blow me away with the quality of the training, level of customer service, and helpfulness of the community.
Wealthy Affiliate was founded in 2005 (That's over 12 YEARS ago. Their longevity should speak volumes by itself!) by two guys, Kyle & Carson, whose ultimate goal was to help beginners get their start online.
The best part about Wealthy Affiliate is that they let you test-drive the entire system FOR FREE.
It's much more than just a program or a service. It's an all-inclusive online business community.
With the free starter membership, you will have your first website up and running within minutes, you'll have access to thousands of hours of training modules and guides, and you'll be able to meet the community that consists of thousands of members ranging from beginners to some of the most experienced affiliate marketers online.
I attribute 100% of my success to the training, support, & connections made at Wealthy Affiliate.
Remember my 3 components needed to build a successful business? Here's how Wealthy Affiliate hits all of them:
1. The Easiest Website Builder Online
I've been saying how easy it is to build a website this whole post. I want to now SHOW you just how easy it is.
Here's the entire website creation form: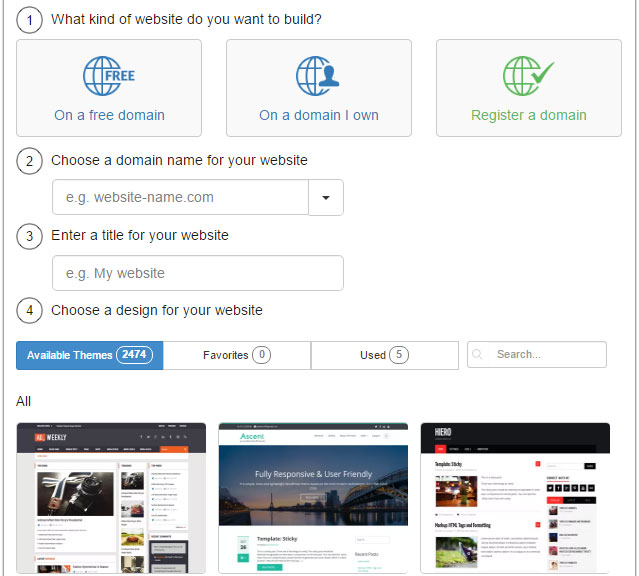 People write to me all the time saying they are interested in affiliate marketing, but don't have the "technical know-how" to get up and running.
It's literally as easy as pointing and clicking. All that you need to do is provide the content and that's no different than sending an email or typing out a Facebook status update.
The fact that you're here now reading this page is proof enough that you're more than qualified to start building your own website.
2. Step-by-Step Training
The training was designed specifically for beginners. It's broken down into actionable step-by-step tasks to help you go from knowing nothing about online content creation to having your very own website up and running within a few minutes.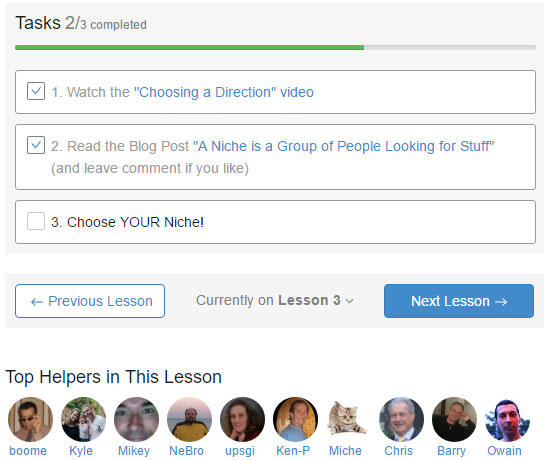 Every lesson of every course is explained in full-detail. Each lesson comes with a discussion section as well. If you find yourself stuck at any point in the training, you can quickly get an answer that will help you move forward.
3. 24/7 Instant Support
There are multiple support channels at Wealthy Affiliate.
You can ask questions, create blog posts, participate in discussions, send private messages to other members, and join in on live webinars.
However, there is a live-chat feature that you can use to get instant support from knowledgeable members within seconds.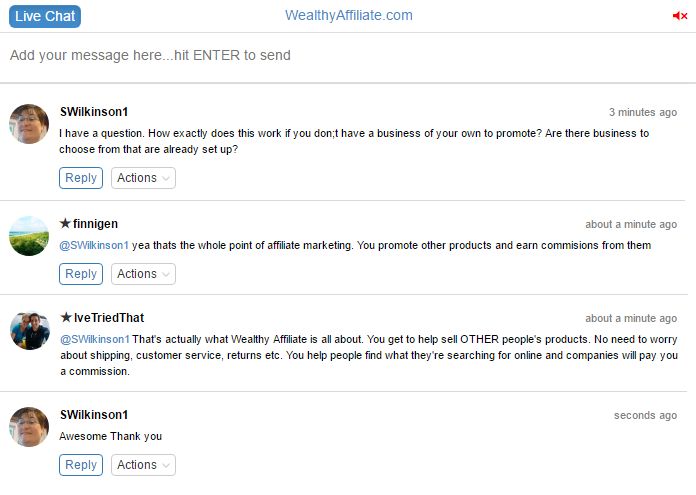 It is active ALL hours of the day and the community is ALWAYS willing to help. If they don't have an answer for you, they'll be able to point you in the right direction.
It's 24/7 Live support and it's by far, the best feature Wealthy Affiliate has to offer.
Best of all

, you get unlimited help from me personally.

I stand 100% by my recommendations.

I'm not going to give you a recommendation that I don't use myself.

I am on Wealthy Affiliate every single day of my life helping members develop their ideas, create their websites, and get traffic to their content.

To prove this, here's a screenshot of my current Wealthy Affiliate profile...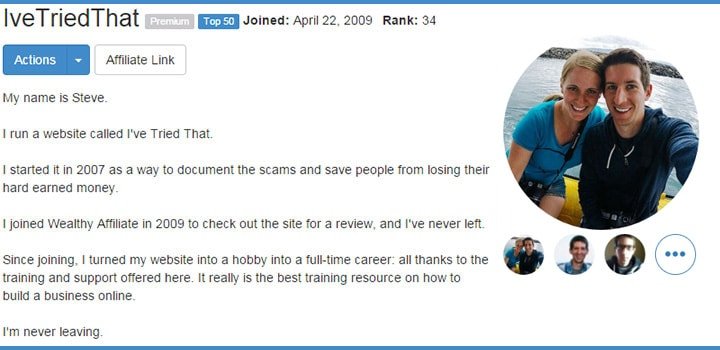 You can see when I joined and my current rank within Wealthy Affiliate. The better the rank, the more active you are. To achieve a rank in the Top 50, you need to be on there every single day.
Just below that is a list of messages people have written to me. Here is a small sample of just a few of the messages I've received from people who have taken my advice and created their own accounts at Wealthy Affiliate.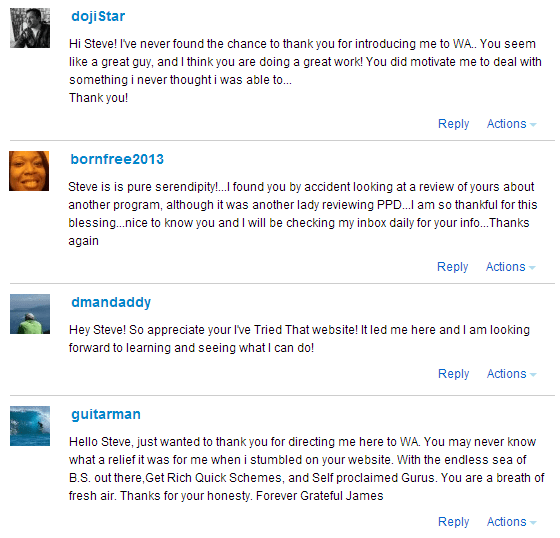 ---
How much is this going to cost me?
You don't have to part ways with a single penny to get access to this program. Wealthy Affiliate believes in their product/service so much that they are willing to give you access to a significant amount of it for NOTHING.
By getting in the door for free with the Starter membership, you can see if Affiliate Marketing is right for you. Make a 100% educated decision without having to spend a dime! This really is the only program that I've found that lets you try out everything first.
If (and ONLY IF) you think it's a good fit, you can purchase the "Premium Level" membership at Wealthy Affiliate. Premium level is the one and only paid level of membership (remember, no upsells!). Unlock everything Wealthy Affiliate has to offer for $19 for your first month and $49 per month after. This includes...
Unlimited Access to Live Chat (instant help), Blogs, & Questions
Interactive Getting Started Training
Ability to Network with over 230,000 members
Over 500+ training resources
Unlimited Websites on State of the Art Hosting (Worth $100/month alone!)
Ability to Ask Questions 24/7/365
Personal 1-On-1 Access to Both Owners, Kyle & Carson
---
3 Steps To Get Started Today
Step 1. Create Your Starter Account at Wealthy Affiliate
The real training begins at Wealthy Affiliate and you can get started, today, at absolutely no cost.
Fill out the form below with your real email address and you will taken directly inside the member's area of Wealthy Affiliate.
Seriously! All you need is an email to get in. No credit card required.

---
Step 2. Fill out your profile
After you enter your email above, you'll then be inside the member's area.
The very first thing you need to do once in the doors is to add a picture and a short description about yourself to your profile. Let people know why you're joining and what you wish to accomplish.
Wealthy Affiliate is a very friendly and social group. You'll want to have your profile filled out when engaging with the community.
---
Step 3. Read my 10 Hottest Business Ideas
I often see beginners questioning: "What should the topic of my first website be?"
People have given up at this stage, so I wanted to provide you with a list of my 10 hottest business ideas for 2017. I'm also going to SHOW YOU exactly how I came up with those ideas. If you like one of the ones that I found, great, use it! If not, you can follow along exactly how I came up with these ideas and brainstorm some of your own.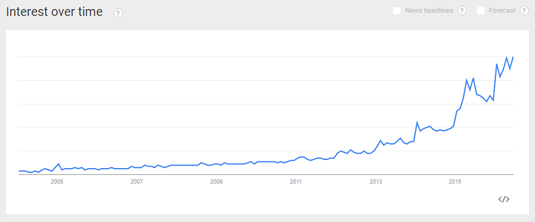 After you set your profile up, I'll be by shortly to read it. You'll see that I really DO use the program and your really CAN talk to me directly.
I'll include a link to my 10 Hottest Business Ideas and you can use these to figure out which direction you want to take your own business.
---
I look forward to working with You!
I only recommend products or services that have made me money.
I've reviewed hundreds of programs for I've Tried That and can count on one hand the number of programs that have actually lived up to their claims.
I joined Wealthy Affiliate in 2009 and it's held my #1 recommendation for over eight years now. I login every single day to help others, grow my own business, and learn something new.
My success online is directly attributed to everything offered at Wealthy Affiliate. I own my own business, I get to travel the world, I spend every day with my wife, and I'm not a slave to the 40-hour work week.
Here's Amanda and I in Hawaii again if you need one last kick of motivation.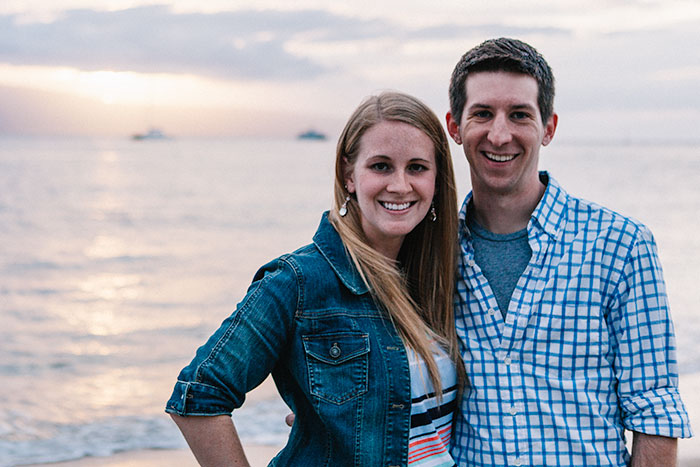 I'll be available every step of the way.
It's up to you now to take that first step and enter your email to join Wealthy Affiliate today.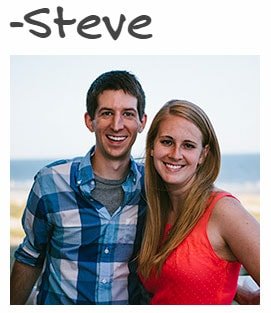 Questions Before You Join?
If you have any questions regarding affiliate marketing, Wealthy Affiliate, or anything in general, leave me a comment below and I WILL respond to you as soon as possible. Remember, it is free to sign up for Wealthy Affiliate and you can create an account and ask me questions there as well.
PS. You have nothing to lose and everything to gain. Will you be Wealthy Affiliate's next success story? Enter your email below to find out.