Google+ has seen its ups and downs ever since it was launched in June of 2011. The social network, which initially tried to model itself after Facebook, underwent several changes, such as the introduction of Pages, Hangouts, Events and Communities. With time, additional features have been added, including the more recent Google+ Collections.
The new focus on Collections and Communities
A few days ago, Luke Wroblewski announced that, based on user feedback, the navigation of Google+ had been simplified and centered around its Collections and Communities areas. Google+ also had a new layout, complete with a left-hand sidebar that showcased where its users could go to on the site.
These changes are not yet implemented, but current users can get a sneak preview by going to their profiles and clicking  'Let's Go' on an opt-in prompt.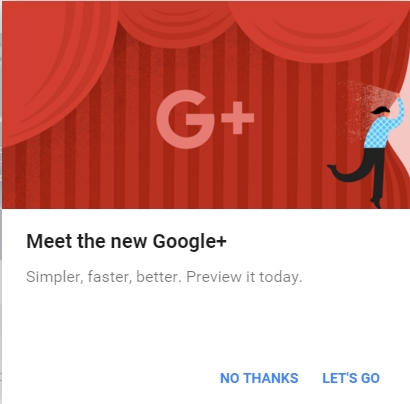 Once they do, they'll see their profile photos minimized, their background header maximized, and a lefthand sidebar as follows: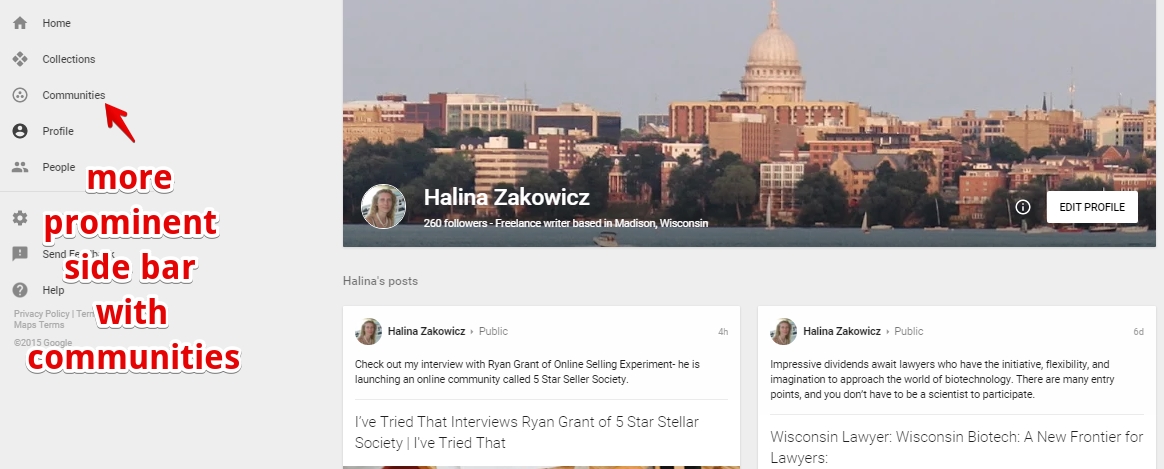 Google+ Collections consists of topic-focused content such as World Cuisine or The Best of Waterfalls Collection. Users can create individual Collections in a Pinterest-type fashion and have followers follow their boards.
Communities is an older feature of Google+ and operates much like Facebook Groups. Here, users ask to join groups centered around a common theme; examples include Internet Marketing and Crockpot Obsessed.
In the current Google+ platform, the Communities tab is tucked away into a small corner of the user profile page: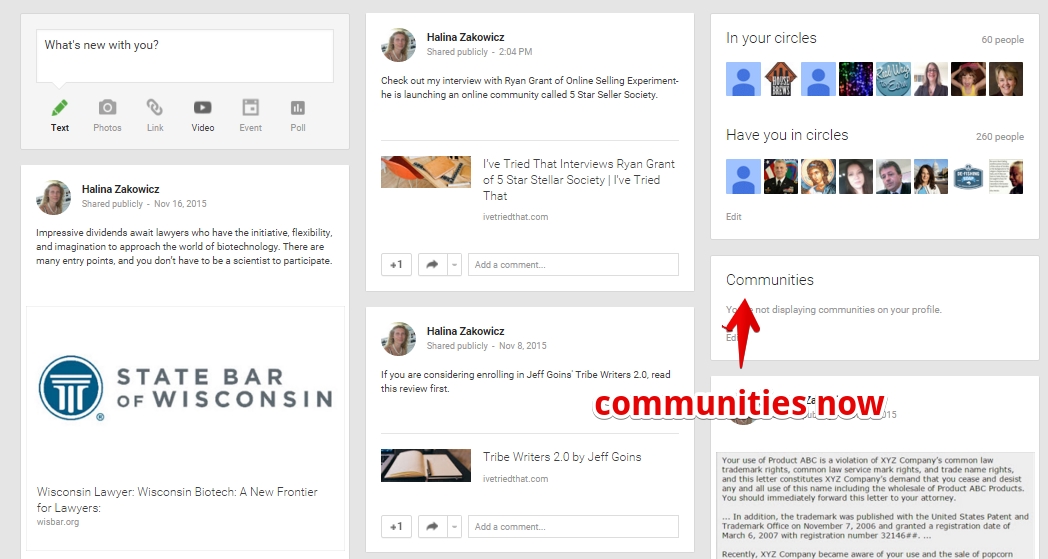 This poses a challenge to new users of the platform, or even seasoned users who happened to miss the Communities feature. With the newer version of Google+, the Communities tab will exist more prominently and on the left-hand tab.
How to benefit from this change:
As an affiliate marketer, you now have two prominent areas within Google+ to showcase your content (i.e., Collections) and draw followers (i.e., Communities) to it. With Google+ Communities being reported to grow at the rate of 1.2 million new joins each day, this platform is certainly worth a look if you haven't yet taken advantage of it. Also, posted content is directly served up in the search engine results pages (SERPs).
Akin to Pinterest, you should try pairing your written content with eye-catching visuals or even try your hand at creating infographics. Product reviews and demonstrations can also be added to your content and used to draw new followers.
Consider using Google+ Hangouts to broadcast your content and use those occasions as opportunities to grow your following. If you have a marketing product such as an e-book or webinar, use that item as an incentive for people to follow you on Google+.
Keep tabs on follower comments to learn what your readers are saying about your content, and what content you could be producing and posting. Also, track your competitor affiliates and learn about their tactics- then duplicate their efforts.
As you gain a brand image for your own community, use that image identity strategically when visiting other like-minded communities and collections. Post valuable content to those areas and/or raise thoughtful comments. Doing this on a regular basis will help draw followers back to your own Google+ real estate.
Finally, don't forget to optimize your content with keywords to ensure content findability and improved rank.
By the way, Google+ is more mobile than ever before.
Google's Mobilegeddon update earlier this year proved that the search engine is taking mobile device content seriously. Likewise, Google has placed particular attention on mobile-friendly design in its new social platform, and included apps for devices operating on Android and iOS.
Finally, Google also just released a 160-page report and guidebook on its recent algorithm change regarding mobile websites. This file was the result of Google soliciting and reacting to evaluator feedback regarding how individuals use their mobile devices to search online.
How to adjust with this change:
It's been noted that websites bereft of responsive (i.e., mobile-friendly) design have been penalized in search rankings. If you're not sure about your current online content, use the following mobile-friendly test from Google to check how strongly your website complies.
If your site is found lacking in this arena, don't worry- there are plenty of services that will generate a responsive platform for your website, and for free. DudaMobile is one such service, offering responsive design in exchange for ad placement. Incidentally, Google also offers a free mobile website builder.
Once your site build is complete, check it on the new Google+ platform to double check its performance. Also, peruse your content and see if it opens fully on the Google+ page. If it doesn't, then you'll need to reorganize your words into bite-size reading chunks and add additional headers/sub-headers.
Affiliate products should also be grouped so that users don't spend much time sifting through results. Again, you'll need to strategically add keywords to ensure optimal content display on the SERPs.
Helpful hint: Don't incur penalties for spammy affiliate marketing.
There have been some concerns regarding Google+ not displaying affiliate links or outright affiliate advertisements. For example, Google+ doesn't display Clickbank links.
To work around this issue, use URL shorteners via Bit.ly, or just direct readers to your website or blog. However, don't do this too frequently or community members will start seeing your content stream as spam and probably unfollow you.
Summary: The only Google+ constant is change.
As Google continues to refine its platform, you can benefit from its tweaks by understanding what is considered important and thus more likely to end up at the top of the SERPs. By taking advantage of this platform, you'll also gain followers to your affiliate sites, increasing your bottom line.