Smartphones aren't getting any cheaper- so why not make a few bucks from your latest iPhone or Android-based mobile phone while you're standing in line at the DMV or waiting for the bus to arrive? Several mobile apps enable you to complete online surveys and perform other simple tasks for money and credits while you're "on-the-go."
There's no catch to making extra money or other incentives from these mobile apps. Because the apps are free to download, you're investing just a few minutes of your time to get them onto your phone. From there, most apps will ask you to fill out some basic profile information including your gender, name, address and phone number. You'll also need a Paypal account in order to collect payment.
Here are just a few of the incentive-based smartphone apps out on the market:
Currently only available for Android phones, the Google Opinion Rewards app enables smartphone users based in the USA, Canada, UK and Australia to earn Play Store credit for each completed survey. This credit is redeemable for things like Android apps and Google Play music and movies. Surveys are short and sweet, taking no more than a few minutes to complete. New surveys are sent out at a rate of 1-2 per week.
Keep in mind that some surveys don't pay anything; luckily, you can opt-out of taking them. Also, the surveys do need to be completed within a given time span, so make sure you actually have several minutes to spare before accepting them.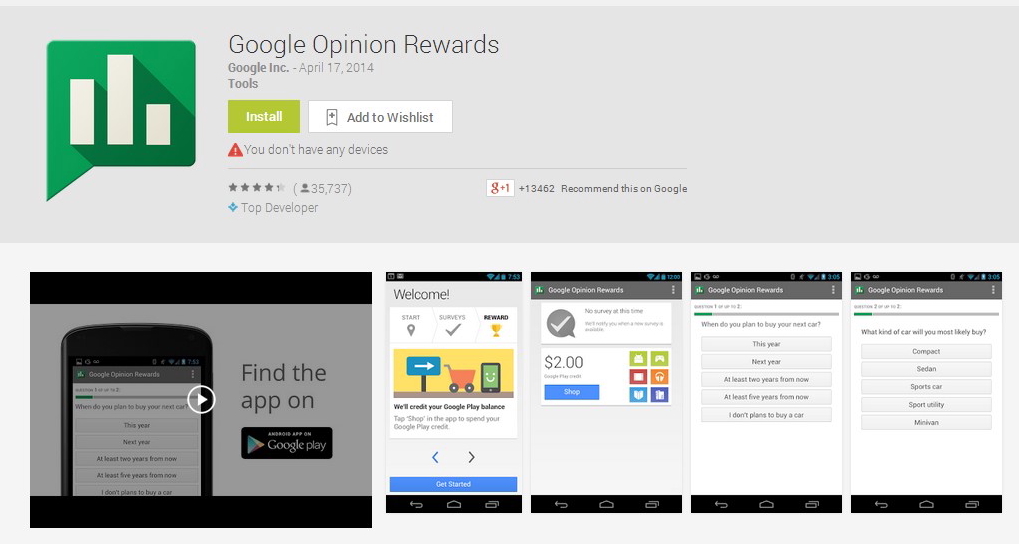 This mobile app is available for both Androids and iPhones and pays $1 for each completed survey; however, some higher-paying surveys pay as much as $10. There is also a nice $5 signup bonus with iPoll. The surveys themselves consist of about 10 questions and take just a few minutes to complete. iPoll's payout minimum is $35.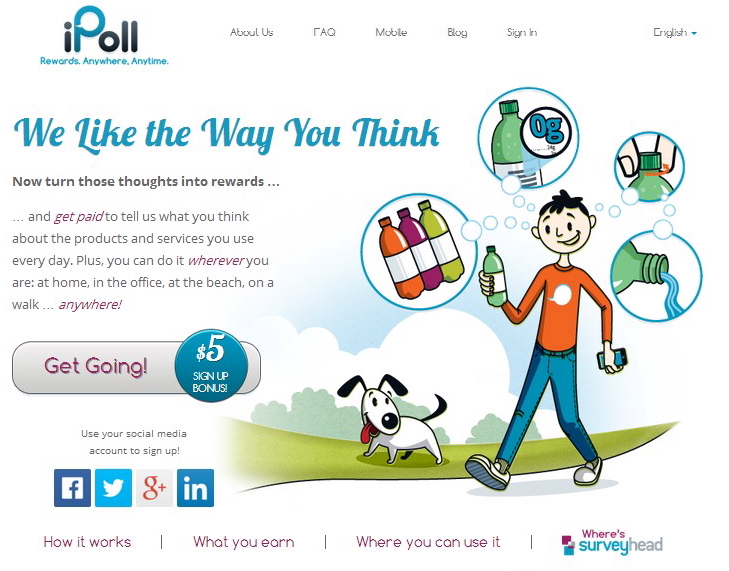 You can do several different paid tasks through the Jingit mobile app, including watching ads and filling out surveys. Payout is by debit card or online music download credit instead of Paypal. Also, your weekly earn limit is $5 unless you refer others to download the app- then your weekly earn limit can go as high as $10. This mobile app is available for both iPhone and Android-based smartphones.
If you like to mystery shop but hate the hassle of having to rush home and fill out your reports, this mobile app is right up your alley. Mobee enables you to mystery shop on-the-go and fill out your shop questions using your smartphone. You can also earn "mission points" for filling out surveys and simply providing feedback about local businesses. The app is available on both iOS and Android platforms.
Mission points are equivalent to cash, with every 100 mission points equal to $1 USD. Most mystery shopping/survey missions pay between $1-$5.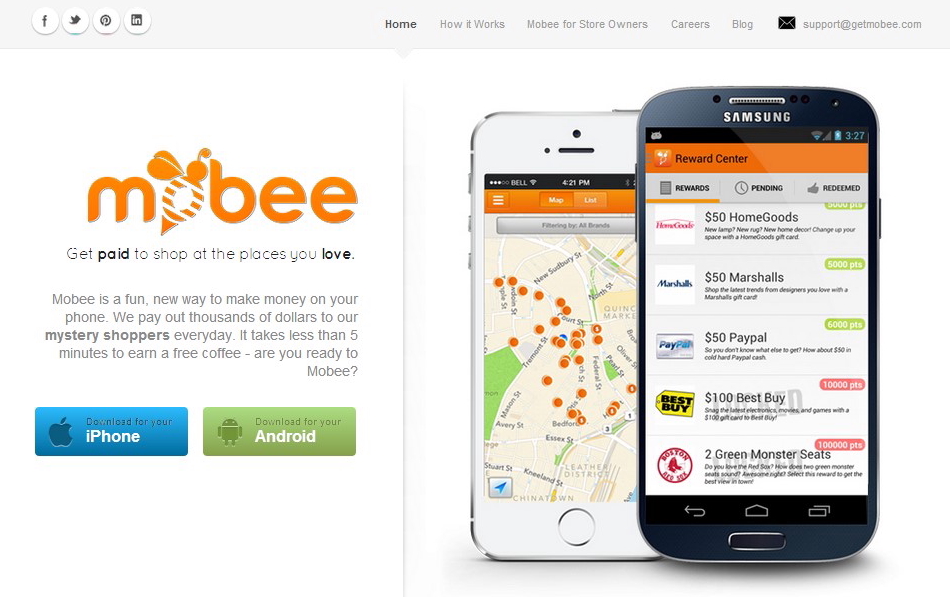 Installable to the iPhone, Blackberry and Android, the Mobrog offers paid surveys to participants who download its app and fill out a few profile details. The app is available in 45 countries and pays between $0.50 and $3 USD per completed survey. In April 2013, Mobrog reported that it had over half a million users signed up for its app.
The Slidejoy app is arguably the most passive income app of the lot- after being downloaded, the app places ads onto your phone's lockscreen (turning it into a very small billboard). You simply slide your screen to the right to unlock your smartphone…or slide to the left to obtain more information about the advertisement. Regardless of which way you slide, however, you still get paid.
Depending on how many ads you view and how deep into them you go, you could earn between $5-$15 per month.
Slidejoy is an adaptable app and will learn which ads you prefer to peruse, so future ads are more targeted towards your individual tastes and demographics. Currently, the app is only available for Android-based mobile phones; however, an iOS version is expected by fall of 2014.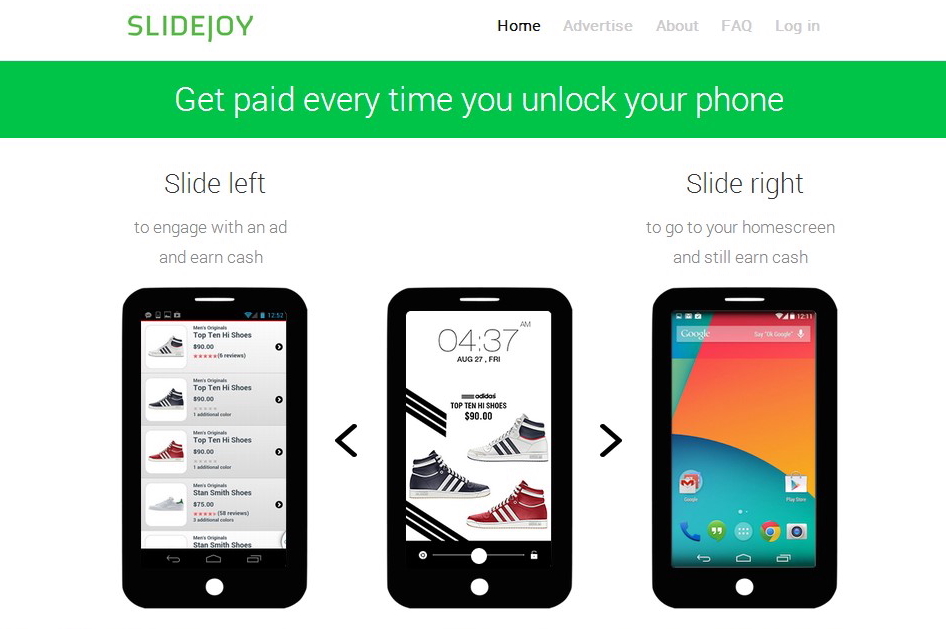 As you may have already noticed, you don't have to only fill out surveys to earn cash. Swagbucks currently offers two mobile apps, one of which is a web search app (using Swagbucks as the search engine) and the other of which is a TV channel app (using Swagbucks to watch short videos). For completing the tasks assigned by either of these apps, you earn Swagbucks which are then redeemable for $5-$50 gift cards.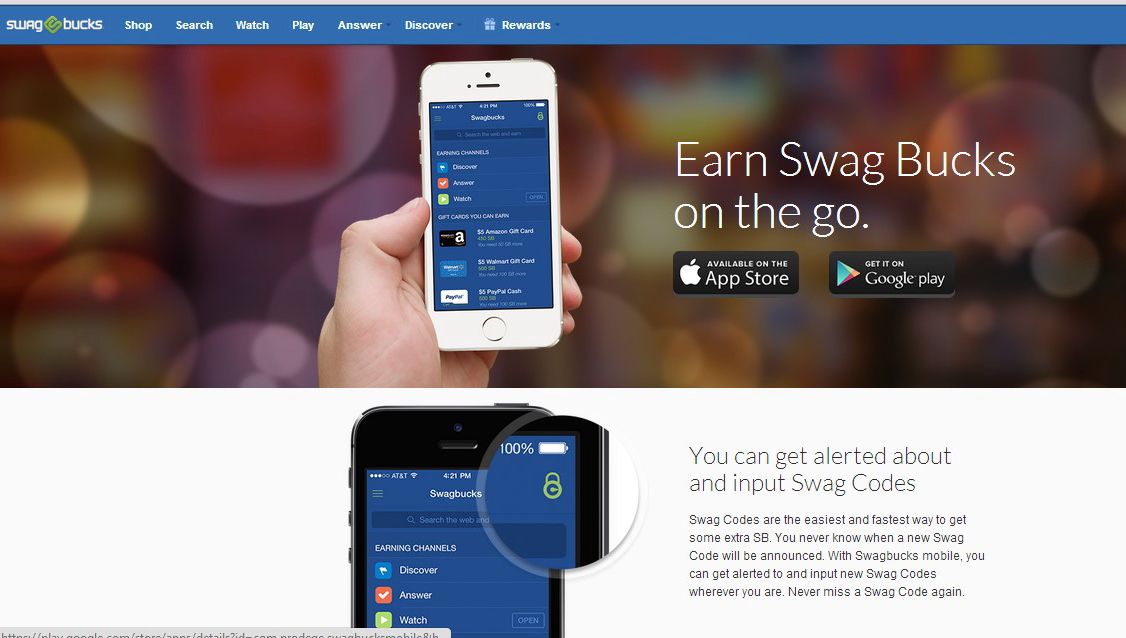 This mobile app is available for both iOS and Android-based devices and awards you points while you watch TV programs or listen to music. You can activate the app while watching TV, for example. Viggle will identify the show and start awarding you points for every minute you watch that particular show.
Once you've accumulated enough Viggle points, you can spend them on gift cards or other downloads (e.g., iTunes songs).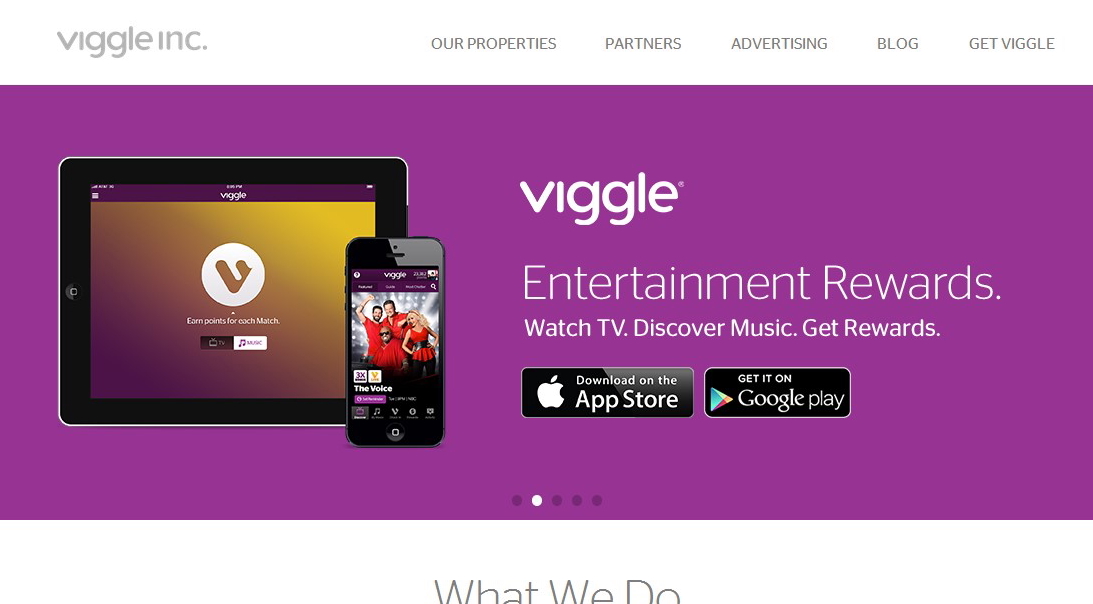 Discover additional paid mobile apps
New mobile apps are coming out almost daily, so how can you keep track of the latest paying apps on the market? Cnet.com is a wonderful technology news resource where you can go to discover new mobile apps that reward you for viewing ads, filling out surveys or completing other small tasks.