So, You Want to Start Making Money From Home?

Hello there!
Quick introduction. This is me. My name is Steve. I run I've Tried That. I help protect people and their money from scams.
And you are?
Wait, let me guess, you are looking to find a scam-free way to make money online.
Am I right? You want to find a way to make a dependable, reliable income online that can supplement or even replace your current form of income.
Well, I'm here to help you find what you're looking for.
Odds are, you fit into one of the following categories:
People that are not fulfilled with their job
Individuals simply looking for extra income
Work at Home Moms and Dads
People that want to change their life path
Unemployed (or people who were hit hard by the global recession)
Retired
Grandparents
College and University Students (even high school students on occasion)
When I first started making money online, I fell into the college and university students category. I wanted to find a way to make some extra money online so I didn't have to sacrifice my time in college working a full-time job while trying to stay on top of my studies and finding time to maintain a social life.
After I graduated from college, I transistioned into wanting to make a full-time income online so I didn't have to take a traditional 9-5 job working as a slave for some major corporation. I wasn't interested in time cards or bosses. I wanted to work for ME.
I'm sure a lot of you share these sentiments. Maybe you're looking to find a way to work from home so you can be around your children more often. Or maybe you're sick of the whole rat-race and want to start a business for yourself. You know that trillions of dollars are spent online each year and you want to stake your claim on some of that cash. Whatever your reasons may be, YOU can learn how to make money online and I'll gladly show you how you can get started, today.
The Best Possible Resource for Beginners

It's called Wealthy Affiliate and it's my number one recommendation to learn how to make money online.
Wealthy Affiliate is a step-by-step training program that teaches its members to become successful experts in affiliate marketing. It is a vast educational resource that will teach you how to successfully become an Internet Marketer by providing you with all the tools and training you would ever need.
It's the same step-by-step process that I followed to build a successful online business and I'm still an active member in the Wealthy Affiliate community today.
The full name for Wealthy Affiliate is The Wealthy Affiliate University. It really is best to think of it as an online school. It's not an eBook you download or a piece of software you install. It's a full-on online course where you can learn from teachers and interact with students. You can login complete some lessons, but instead of getting grades, you make money!
I've spent thousands of dollars trying different internet marketing courses for this blog, but have yet to see a program that offers as much as Wealthy Affiliate.
One of the biggest problems I've seen with other courses is that they quickly become outdated. Wealthy Affiliate adapts to changes in Internet Marketing and is updated daily both by the owners of the program and the members. New resources are written all the time and you will always have full-access to all of the training materials.
The absolute best part about Wealthy Affiliate is that they aren't going to try and sell you anything else. Your membership includes everything you would need to start an online business and then some. They offer weekly webinars, video training, website hosting, unlimited support, personal one-on-one coaching, a community forum, step-by-step instructions, and so much more.
What to Expect When You Join Wealthy Affiliate
Everyone who reads this articles wants to know one thing: how long before I start making some money? Unfortunately, this is probably the only question I cannot answer. I simply can't guarantee you'll make x amount of dollars in this amount of time and frankly I wouldn't trust anyone who gives you specific numbers especially if those numbers seems a bit outlandish.
Instead, what I'd like to do is walk you through the type of work you'll be doing and how exactly you'll be making money.
Month One
You can expect to have your first website (and possibly more) up and running within the first few days of your membership. If you're really ambitious, you can have your first website setup in a few hours, regardless of your technical experience. You'll be well on your way to learning about search engine optimization, which is basically how to get people to come visit your website. You'll be learning about advertising and you will be connecting with companies to place products/ads on your blog.
You will have posted an introduction on the community forums. You will most likely have shared your personal story and made a few friends. Add me as a friend once you join! My username is IveTriedThat.
Month Two
By now, you will be updating and maintaining your website(s). You will be getting traffic and learning how to build a list of followers. You will most likely start working on a newsletter and learning about different ways to reach out to your readers.
You will most likely have attended a few "WAbinars." These are live video training sessions put on by the staff at Wealthy Affiliate. You can view past video trainings as well. This is, of course, included for free with your membership.
By now, you will hopefully start to see some commissions. Once you start to see the money coming in you will be hooked. The best part about Internet Marketing is that once you start making money, you will have discovered something that works and all you have to do is repeat those steps until you've built your own online empire.
The Entire Time While You're a Member
There are quite a few benefits to joining Wealthy Affiliate, but the biggest one has to be that you will be surrounding yourself with like-minded individuals. You gain access to the community forums. Ever member of Wealthy Affiliate has access to these forums. You can connect with other people, ask questions, read stories, gather inspiration and so much more.
Another benefit is one-on-one coaching. You can email the owners, Kyle and Carson, any time and they will personally respond to your questions. I've emailed them both dozens of times and they have both taken the time to help me with my questions and offer advice. Plus, I'm very much an active member too. You can add me as a friend, send me messages, and connect with me on a more personal level. I'll be more than happy to help you any way I can.
These have all been some pretty general examples. I want to give you some specifics and share with you some of my accomplishments to give you an idea of what is possible when you join Wealthy Affiliate.
My Earnings with Wealthy Affiliate
I'm about to share with you some very personal screenshots of a few of my affiliate accounts. I want to make it clear up front that these earnings come as a result of years of hard work online. This is just to show you what's possible if you really dedicate yourself to building an online business.
Just remember as you look through this: years of hard work. Don't expect to start an Internet Marketing career today and make this kind of money tomorrow. Plan on learning first, then implementing what you've learned, and using your knowledge to build an income and you'll be okay.
Let's start with...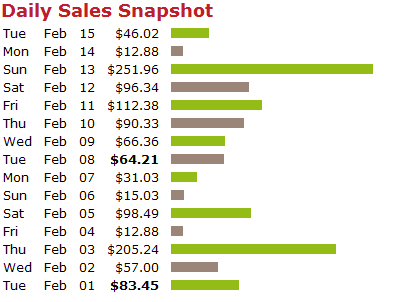 I'll save you the trouble of adding that up. It comes out to $1,243.60. That's over a thousand bucks over a two week period. These earnings all come from ONE SINGLE article I wrote OVER TWO YEARS AGO. Yes, you read that correctly. That one single article has been consistently making this kind of money for over two years now. It took me only a few hours to write.
I used a few article marketing training guides at Wealthy Affiliate to help me write a compelling article and learned how to properly promote it and drive traffic to it. This was one of my first "big ideas" and has been a cash cow for me ever since.
Next we have...

This is a screenshot of my Amazon affiliate account for the month of February. All of these earnings come from a deal website that I run. I scour Amazon.com looking for big discounts on items. It takes me about 5 minutes to update each morning and hundreds of people visit it each day looking to save some money. I get paid every time someone clicks on one of the deals I posted then buys ANYTHING at all at Amazon.
The idea for this site came from the Wealthy Affiliate forum. A few members were talking about how to make money with Amazon's affiliate program. Since I love online shopping and saving money, I decided to create a website to help other people do the same. It's been a huge hit and it's one of the easiest ways I'm making money online.
Up next...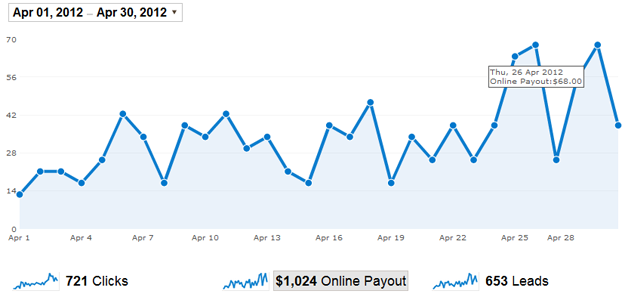 Here is a screenshot of another affiliate program that I use often. These numbers, again, are a result of one article I wrote a few years ago. The exception here is that the program the article reviews is 100% completely free to join. The company pays people like me to get people to sign up for free.
These are called "CPA offers" or "cost-per-action" offers. In this specific case, the action being completed is the verification of a name and email address after a user completed a sign-up form. Every time someone signs up for this program, and verifies their email address, I make money. I don't have to sell, or use pushy sales tactics. I found a program I liked, reviewed it, and put a link up in my article. The article makes around $1,000 each month for me. Pretty cool, right?
Finally we have...

This last screenshot is just a small snippet of my personal Gmail inbox. I recently wrote and released my own guide to sell and it's been moving quite well. I did a search for all of the payment notifications and you can see the search returned thousands of results.
The guide has been my biggest success thus far and I used a combination of a ton of different Wealthy Affiliate guides to help me write it and promote it. I was also able to get in contact with other Wealthy Affiliate members who had experience selling products and was able to pick their brains and ask questions. These were people who make millions of dollars online each year and they were personally helping ME. I never would have been confident enough to write my own guide, nor as successful at selling it, if it wasn't for the help at Wealthy Affiliate.
This has just been a small sample of just a few of my earnings. I wanted to give you a personal look into a few things that I'm doing to make money online and give you some proof that yes this stuff actually does work.
An Incredible Source of Support and Inspiration
I honestly believe Wealthy Affiliate is the best way for beginners to learn how to make money online and that's why I give it my number one recommendation.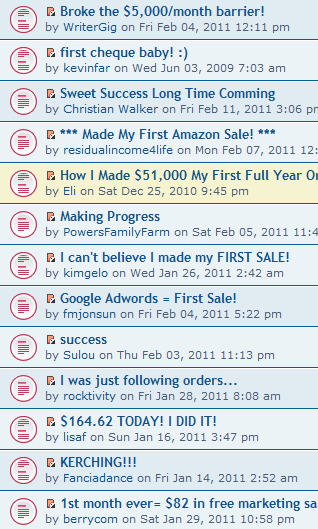 Success and Inspiration
I wanted to give you an inside look at the "Success Forum" within Wealthy Affiliate. On the right is just a small handful of people talking about the success they found after joining Wealthy Affiliate. Every single day new topics are posted. You can see people talk about the thrill of making their first commission online and later see the same people talk about quitting their full-time to pursue a full-time Internet Marketing career. These are regular people just like you and me who turned to Wealthy Affiliate to help start their Internet Marketing careers. Most of these people started with no prior experience.
I just want to point out that this is within the members-only forum. These people are sharing their stories of success with other Wealthy Affiliate members. They often explain step-by-step the exact process they followed to achieve their success. The people in the community forum are really incredible.
Support When You Need It
The support offered at Wealthy Affiliate is one of the main causes of my success. The community forums are great, but nothing compares to the one-on-one coaching offered by the owners Kyle & Carson.
I've spoken with both of them and asked for help and advice and they have always responded with detailed answers. You just know they're actually taking the time to read what you have to say and are sincerely interested in helping you succeed. This is a rare quality that I hardly ever see in a program.
Have you ever tried to get in contact with someone who sells some sort of "make money from home" type program. Even if you can find their contact information, they hardly ever respond. That's not the case at Wealthy Affiliate. The owners make themselves readily available to you and man are they helpful. It's such a breath of fresh air.
In addition to one-on-one support, I'm very much an active member of Wealthy Affiliate today and you can join and ask me questions personally. You can add me as a friend inside Wealthy Affiliate and send me a message. I'll be more than happy to help you any way that I can.
What You Need to Know
Lastly, I want to drive the point home that Wealthy Affiliate is a vast educational resource with a giant collection of training. It really helps to think of the program as a college with students, mentors, and teachers. If you were to go back to school, you would expect to pay upwards of $50,000 or more to get a proper education. At Wealthy Affiliate admissions only costs $47 per month, but you can try it absolutely free first.
May 2012 Major Update: Wealthy Affiliate is now letting people try out their full system for a whole 10 days FOR FREE. You don't even have to enter a credit card number to join. There are no obligations to remain a member. Try it for 10 days and make sure Wealthy Affiliate is right for you. Only after your trial period is up will you be asked to finally join.
Wealthy Affiliate is finally answering the question of "If it's so great, why can't I try it for free first?" Now you can! This news is absolutely huge and unlike anything I've ever seen online before
I sincerely hope this post helped you gain some direction. I wanted to give you an honest look into my personal life and offer some guidance on how I started making money online. I highly suggest you come join me at Wealthy Affiliate and I hope to see you on the inside.
PS. After you create your account, send me an email at Steve@IveTriedThat.com and introduce yourself and let me know you made it in okay. I'll reply with a few links to help you navigate around the site as well as a 10-page bonus training guide I wrote for beginners at Wealthy Affiliate. It'll help you quickly find your way around the site and get you working towards that first $1 online.
See you on the inside!