I've Been Saving People Like You from Scams for Over 8 Years. Today, I'll Help You Make Real Money Online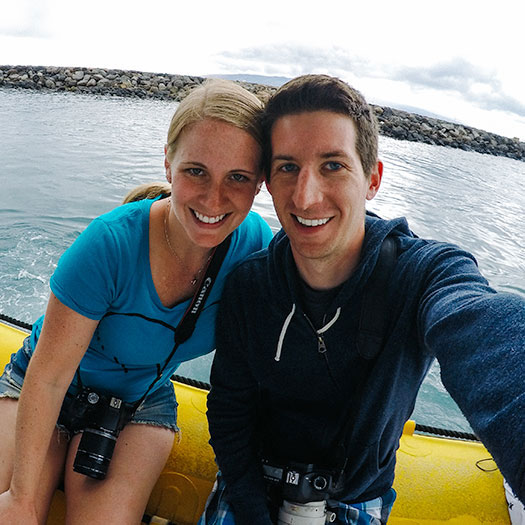 My name is Steve Razinski and I founded I've Tried That in 2007. My goal was to try all of these "make millions online overnight" type programs and put their claims to the test.
Since you're here reading this now, I have a hunch that you already know how those go.
I know you're jaded from false claims and outlandish promises of wealth online. Hear me out though.
Right now, all I ask is for five minutes of your time.
Five minutes of uninterrupted attention.
In return, I'll teach you something new: the best way I've found for beginners to really build an income online.
---
By the time you reach the end of the page, you'll learn:
Who I am & why I'm qualified to give you advice
How I learned how to make my money online
Proof my methods work
How you can get started and work alongside me today with absolutely no money required to start
I'm also going to GIVE you the following:
Step-by-step guidance on getting started
10 of the Hottest Business Ideas for 2016
Instructions on how to turn those ideas into money making machines
FREE access inside the most powerful & helpful community online
My own personal support
Stick with me. By the end of this page, you'll learn something new and you'll be ready to start building your very own online business today.
---
Building the Foundation & Who is Steve?
Before we dive in, I wanted to share a little bit about me. I do think my backstory will help you realize the kind of lifestyle that's waiting for you.
I want to first start with sharing some of my latest adventures.
Here's my beautiful wife Amanda and I whale watching off of Maui, Hawaii…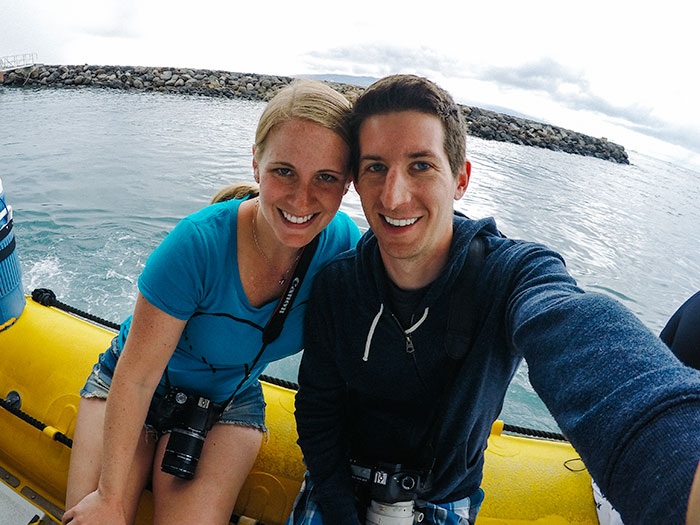 And here's Amanda in Monterey, California...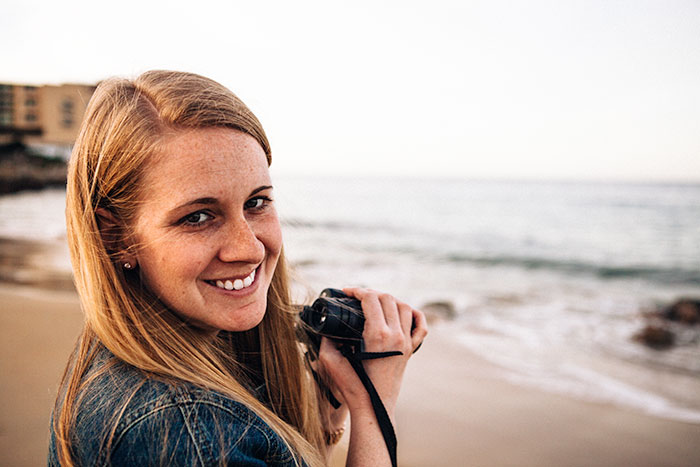 And here I am at Giant's Causeway in Northern Ireland…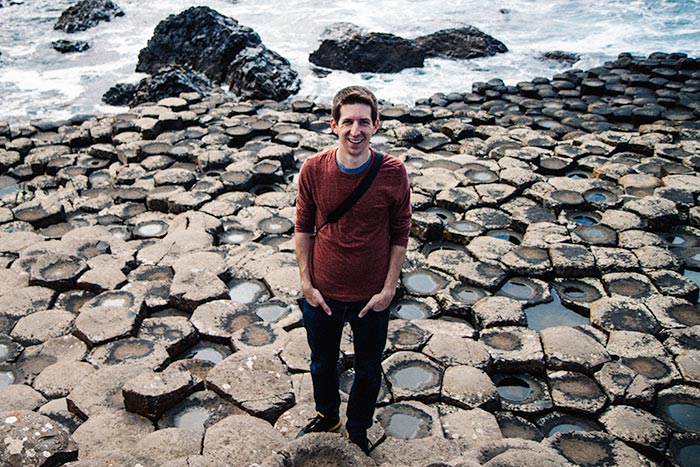 I've chosen these three pictures for two reasons.
The first, is to showcase our love for travel. We want to see as much of the world as possible. We both know time is our most finite resource and we want to get around the planet as many times as we can.
The second being, these pictures were all taken less than six months apart.
Building our businesses online has granted us the freedom and flexibility to do pretty much whatever we please. We're not bound by 40 hour work weeks, incompetent "I'm going to need you to come in this weekend" middle-level managers, or depressing-as-all-hell cubicles.
We are both in control of our own lives.
I started I've Tried That back in 2007 after I lost $50 to a data entry scam. It promised the world for easy work and I bought into the hype.
I felt horrible losing money to blatant lies. How could that even be legal? They were clearly misrepresenting work in an attempt to steal money from people.
I wanted to make sure no one else ever had to go through that experience and thus I've Tried That was born. It's now 8 years later and running this site (among others) is now my full-time job.
Amanda has recently quit her full-time engineering job to work alongside me and build her own business as well.
I've been blessed to live a lifestyle most people can only dream about.
The next section will show you exactly how I've done it. By the end of this page, you'll see how you can start building your very own business alongside myself and thousands of other successful, like-minded entrepreneurs.
---
Here's How I Make My Money Online
This is what you came here for.
Information on how to start making money online.
I create content online that connects people with the information they're searching for. And I get paid to do so.
I create websites (And by the time you reach ten end of this page, you'll see that yes, even you, can create your own website within seconds.) People find my sites through Google or Yahoo read what I write and if they click on one of the ads on my website, I make money.
Here's a look at the process...

It can be very lucrative or it can simply be used to earn a part-time income depending on how much time and effort you are willing to put into it.
You could make $10 a day or $1000 a day or anywhere in between doing so. There aren't any limits (but do remember that this is hard work and will take time to build to that level.)
It's really up to you.
There are tens of thousands of companies out there that are BEGGING for people like you to come work alongside of them. Companies you know of and are familiar with. Companies like Amazon, Walmart, and Best Buy. They offer programs called affiliate programs and when you join them you become their affiliate.
Your goal as an affiliate is to send visitors to their website. (Some companies pay just for the click!)
If one of your readers buys something, you get a commission.
It really is as simple as that!
---
Proof it Works: Here's an Example
This can be hard to visualize so let me give you an example.
I wrote a post on I've Tried That a few months ago where I reviewed a "wake-up light."
The product was a Philips HF3470 Wake-Up Light.
At the bottom of that post are two links that link to the light for sale at Amazon.com.
Any time someone clicks on one of those links and buys ANYTHING (not just the light, ANYTHING) at all at Amazon.com, I receive a commission.
Very cool, right?
A lot of people have read my review. In fact, my website shows up first in the Google search results for 'Philips HF3470 review'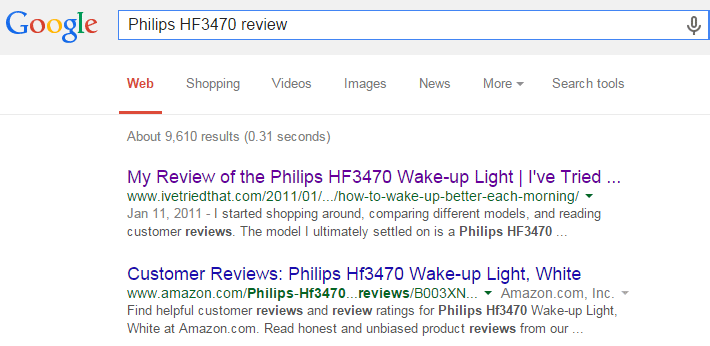 That review accounts for about 7 sales of wake up lights a week on average! I usually earn about $50/week from that one review alone!
That's an extra $200 a month for a post that took me maybe 45 minutes to write. This isn't even accounting for any other items sold at Amazon that I may have received credit for. That number may actually be much higher!
Below is just a screenshot of one month of orders on just the wake up light alone. I highlighted the last column because that is how much I was paid per order.

And this doesn't even include other products that may have been purchased at Amazon that I got credit for!
The Best Part Is That I Don't Sell Anything.
I help people find the information they're searching for online.
I deliver quality information that helps people make decisions and then send them over to a store like Amazon who handles the rest.
Think of how many trillions of searches that are done at Google or Bing or Yahoo and how many billions of dollars are spent online.
Starting to see the value of Online Content Creation?
This is very powerful stuff!
There are affiliate programs in almost every imaginable niche.
Nearly every major company out there has an affiliate program. You can partner with companies like Walmart, Amazon, Target, Nike, Best Buy, eBay, Apple, Microsoft, HP, Dell, Nikon, Canon, Sony, Samsung.
The list is really endless.
Your goal is to find your own little niche on the web, partner with a company, and incorporate their ads on your site.
---
Here Are Some Ways I Make My Money Online
I'm about to share with you some very personal screenshots of a few of my own accounts. I want to make it clear up front that these earnings come as a result of years of hard work online. This is just to show you what's possible if you really dedicate yourself to building an online business.
Just remember as you look through this: years of hard work. Don't expect to start an Online Content Creation career today and make this kind of money tomorrow. Plan on learning first, then implementing what you've learned, and using your knowledge to build an income and you'll be okay.
Let's start with...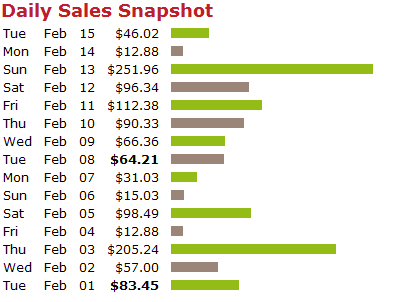 I'll save you the trouble of adding that up. It comes out to $1,243.60. That's over a thousand bucks over a two week period. These earnings all come from ONE SINGLE article I wrote OVER TWO YEARS AGO. Yes, you read that correctly. That one single article has been consistently making this kind of money for over two years now. It took me only a few hours to write.
I used a few article marketing training guides at Wealthy Affiliate to help me write a compelling article and learned how to properly promote it and drive traffic to it. This was one of my first "big ideas" and has been a cash cow for me ever since.
Next we have...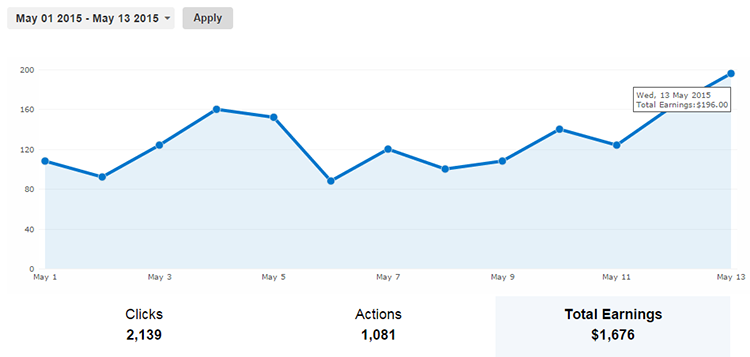 This one is a personal favorite of mine.
Here's what you get when you have highly targeted traffic. This article comes in at only 300 words, but it's been highly optimized for some of my best traffic.
Best of all, it's a rewards type site online that is free to join. I'm helping people save money online and getting paid to do so. All the user has to do is submit their name and email address and this company pays me. Nothing is bought, I'm not selling anything, and this is information they are already looking for!
I expect this one article alone will start making me over $6,000 EACH MONTH. That's a $72k annual salary from a 300 word article.
Let that sink in.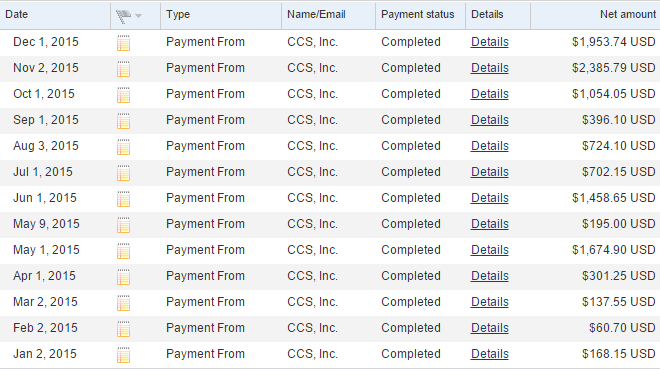 Here's what happens when you issue a positive recommendation on a product you happen to like. To be more specific, $11,212.13 happened in 2015 alone.
Again, this is one article I published in 2014 and it made me over ten thousand dollars in 2015. Literally, 2 hours of my time has earned me five figures, so far.
The best part is, the article didn't even really start to take off until the end of 2016. The current rate of sales has continued into 2016 and I'm expecting to see double what I made in 2015.
One article. Two hours. Written over a year ago. May very well make me six figures.
And here's...

I've highlighted in blue what we were paid for one day by Amazon.
Actually, this screenshot comes from Amanda's (my wife) deal tracking website. She helps people find good deals on popular items online and major retailers like Amazon, eBay, Best Buy, Walmart, etc. pay her every time one of her visitors buys something from their store.
Amanda QUIT HER JOB as a highly paid mechanical engineer to run this website. We now work full time from home together and get to travel the world from the income we generate online.
Like I said above, this is a small sample of some of my own personal income. Every one will have a different experience, but I wanted to show you just what's possible with an Online Content Creation.
---
Don't Just Take It From Me...
It's easy for me to share how I'm making money. I have years of experience and work under my belt. I know my way around a website.
The question you probably have is "Okay Steve, that's great and all. But I have no experience. Do you really think you can help me?"
I'll let two of my students do the talking for me.
The following are two individuals who have found my website, read this page, and decided to take action. The recently published blog posts outlining their experiences after three months.
I didn't ask them to write these. These are two public blog posts that they wanted to share.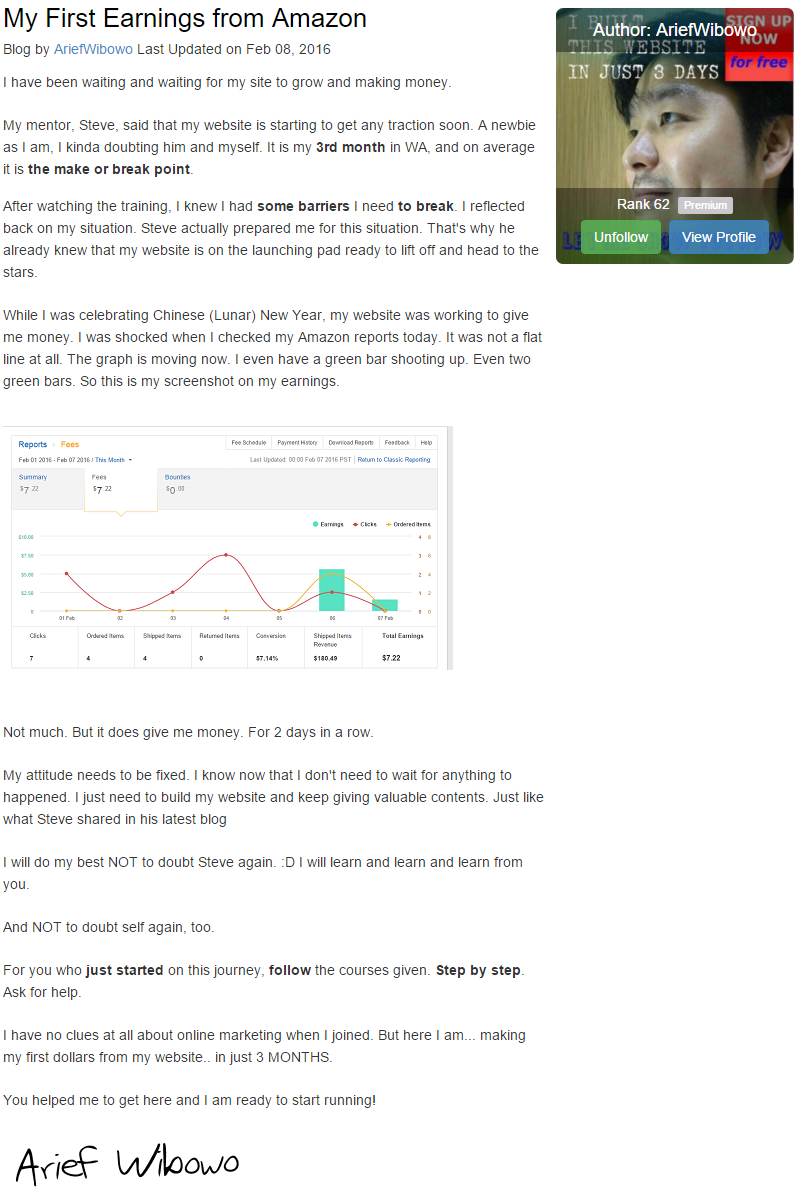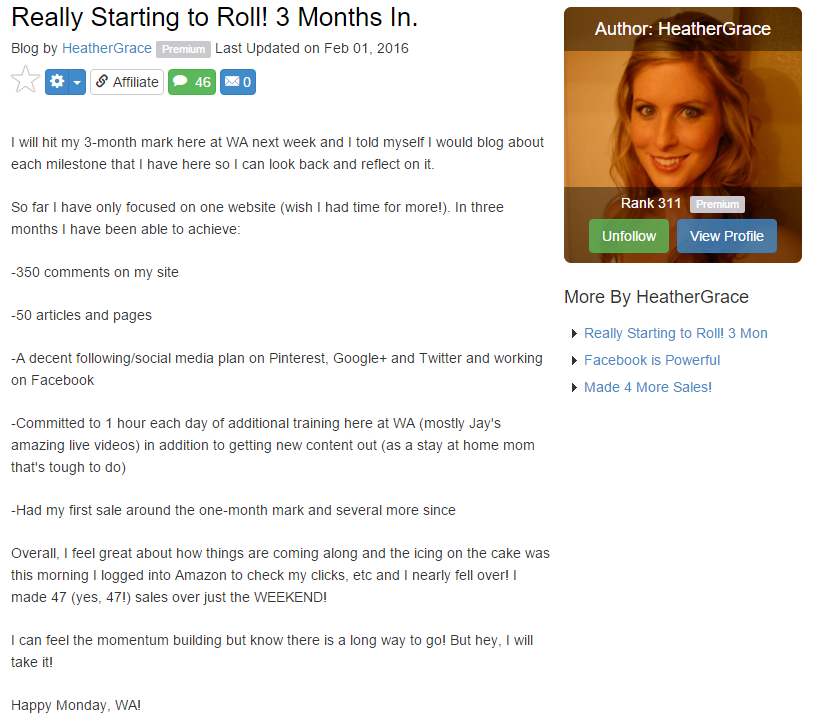 ---
Get All the Tools, Training & Support You Need to Build Your Online Business for FREE.
This page was designed to give you just a brief overview and a simplified look at Online Content Creation.
You should now have a clear idea of the three things you need to start building a business online.
1. An Idea (It's OK if you don't have one for yourself just yet! You don't need one right now.)
2. A Website
3. Help & Support
Here's your solution: Wealthy Affiliate.
The best part about Wealthy Affiliate is that they let you test-drive the entire system FOR FREE.
It's much more than just a program or a service. It's an online business community that was designed to give beginners step-by-step instructions on how to build an Online Content Creation business.
I attribute 100% of my success online to the training, support, and connections found at Wealthy Affiliate.
Everything I've shown you the past few pages is a direct result of my time spent at Wealthy Affiliate. Instead of just telling you about it, I wanted to give you a quick tour of just a few of the features offered.
Here's What Wealthy Affiliate Offers
There are A LOT of features included with a membership at Wealthy Affiliate. Here are some of the most important I've found.
Step-by-Step Training
The training was designed specifically for beginners. It's broken down into actionable step-by-step tasks to help you go from knowing nothing about online content creation to having your very own website up and running within a few minutes.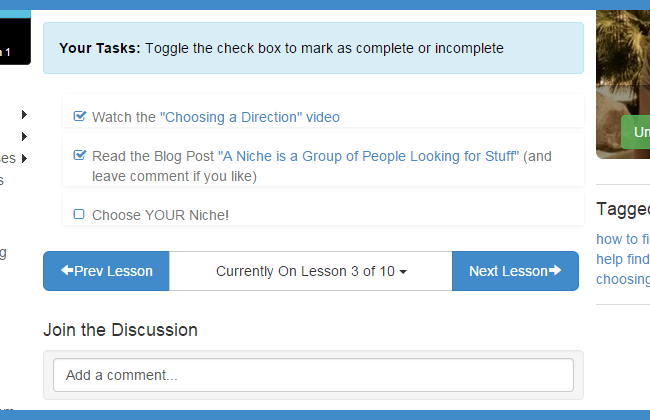 Every lesson of every course is explained in full-detail. Each lesson comes with a discussion section as well. If you find yourself stuck at any point in the training, you can quickly get an answer that will help you move forward.
Super Easy to Use Tools
I've been saying how easy it is to build a website in this article. I want to now SHOW you just how easy it is.
Here's the entire website creation form:
People write to me all the time saying they are interested in creating content online, but don't have the "technical know-how" to get up and running.
It's literally as easy as clicking and pointing. All that you need to do is provide the content and that's no different than sending an email or typing out a Facebook status update.
The fact that you're here now reading this page is proof enough that you're more than qualified to start building your own website.
24/7 Instant Support
There are multiple support channels at Wealthy Affiliate.
You can ask questions, create blog posts, participate in discussions, send private messages to other members, and join in on live webinars.
However, there is a live-chat feature that you can use to get instant support from knowledgeable members within seconds.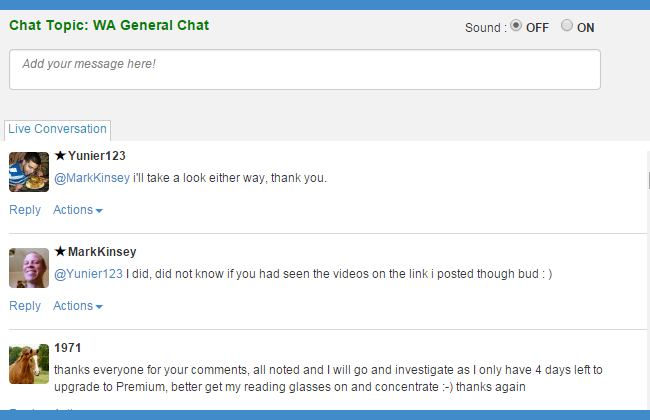 It is active ALL hours of the day and the community is ALWAYS willing to help. If they don't have an answer for you, they'll be able to point you in the right direction.
It's 24/7 Live support and it's by far, the best feature Wealthy Affiliate has to offer.
Best of all

, you get unlimited help from me personally.

I stand 100% by my recommendations.

I'm not going to give you a recommendation that I don't use myself.

I am on Wealthy Affiliate every single day of my life helping members develop their ideas, create their websites, and get traffic to their content.

To prove this, here's a screenshot of my current Wealthy Affiliate profile...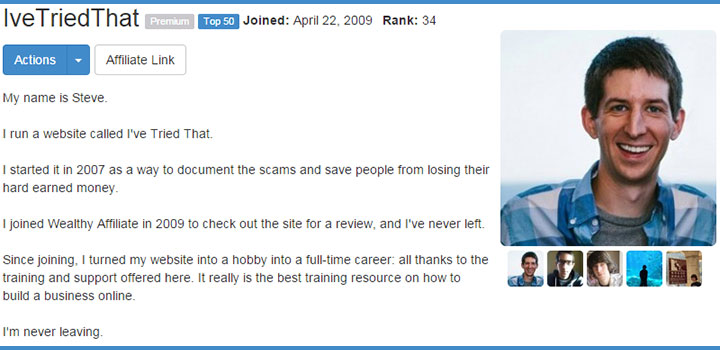 You can see when I joined and my current rank within Wealthy Affiliate. The better the rank, the more active you are. To achieve a rank in the Top 50, you need to be on there every single day.
Just below that is a list of messages people have written to me. Here is a small sample of just a few of the messages I've received from people who have taken my advice and created their own accounts at Wealthy Affiliate.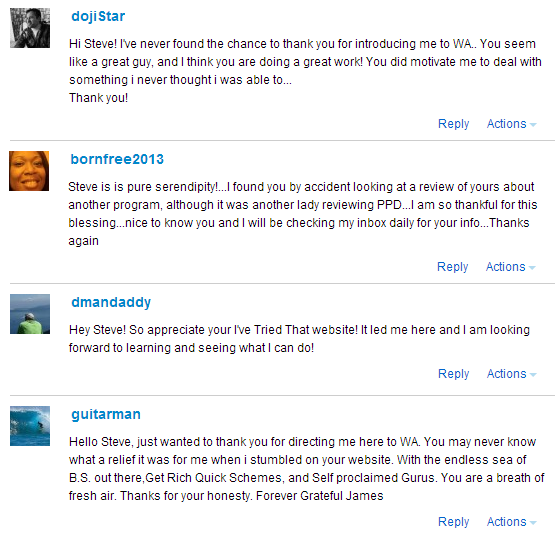 Wealthy Affiliate will give you access to all this & more with your free Starter membership.
This is where Wealthy Affiliate really shines.
You can get in the doors in seconds with just an email address and a password. No credit cards are needed to sign up. You'll be inside, viewing the training, meeting the community, and working on your business at absolutely no cost to you.
If you like what you see, there is a Premium level that unlocks more powerful, advanced tools and trainings to help you further your business.
---
Let Me Help You
At the top of this page, I made you a promise that in return for 5 minutes of your time, I'd give you:
Step-by-step guidance on getting started
10 of the Hottest Business Ideas for 2016
Instructions on how to turn those ideas into money making machines
FREE access inside the most powerful & helpful community online
My own personal support
This is all part of my Blueprint to Success
I will send you all of that and provide you with free acceess to the Wealthy Affiliate member's area.
Once you fill out the form below, you'll be taken directly inside the Wealthy Affiliate member's area. Remember, you get to join absolutely free of charge.
While you setup your account, I will send you an email with my Blueprint to Success, instructions on how to view my hand-picked 10 of the Hottest Business Ideas for 2016, and much, much more.

I look forward to working with You!
I only recommend products or services that have made me money.
I've reviewed hundreds of programs for I've Tried That and can count on one hand the number of programs that have actually lived up to their claims.
I joined Wealthy Affiliate in 2009 and it's held my #1 recommendation for over seven years now. I login every single day to help others, grow my own business, and learn something new.
My success online is directly attributed to everything offered at Wealthy Affiliate. I own my own business, I get to travel the world, I spend every day with my wife, and I'm not a slave to the 40-hour work week.
Here's us in Hawaii again if you need one last kick of motivation.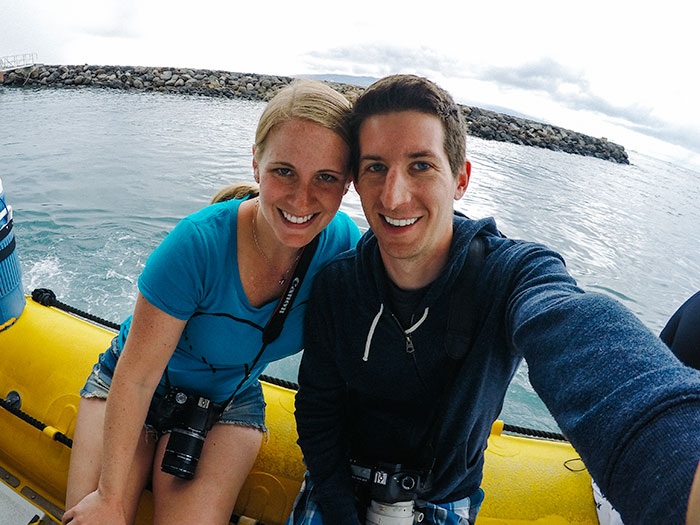 I'll be available every step of the way.
I look forward to working with you to build something great!

Do you have a question before you join? Leave me a comment and I'll respond ASAP!