Ready to start your affiliate marketing business?
Time to get down to the real reason you're here.
My goal over these past few pages was to introduce you to affiliate marketing and get you excited about the prospect of starting your own business.
I wanted to break down the process as simply as I could.
If you have any questions about ANYTHING covered, click on the blue Messenger icon at the bottom right to be connected with me personally.
(This is just an image showing you what the button looks like.)
I 100% firmly believe that affiliate marketing is the most cost-effective and best business for beginners to start in 2018.
Now, let's figure out how to put it all together to actually make money.
A Quick Recap of Everything So Far
The best business to start today in 2018 is an affiliate marketing business.
You use a combination of your own interests, plus research what people are interested in, to come up with your "niche" or main website idea.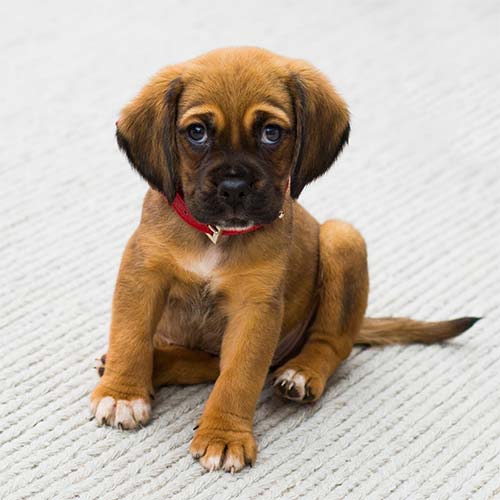 You research which keywords are being most searched for in your niche.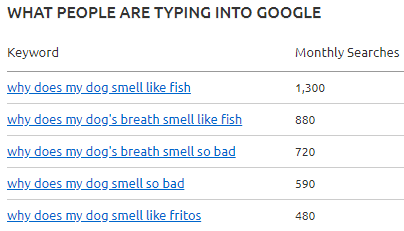 Keywords are just what people are searching for online.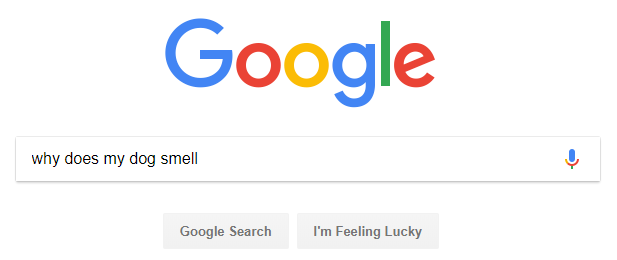 You then write content using keywords to help people find your website.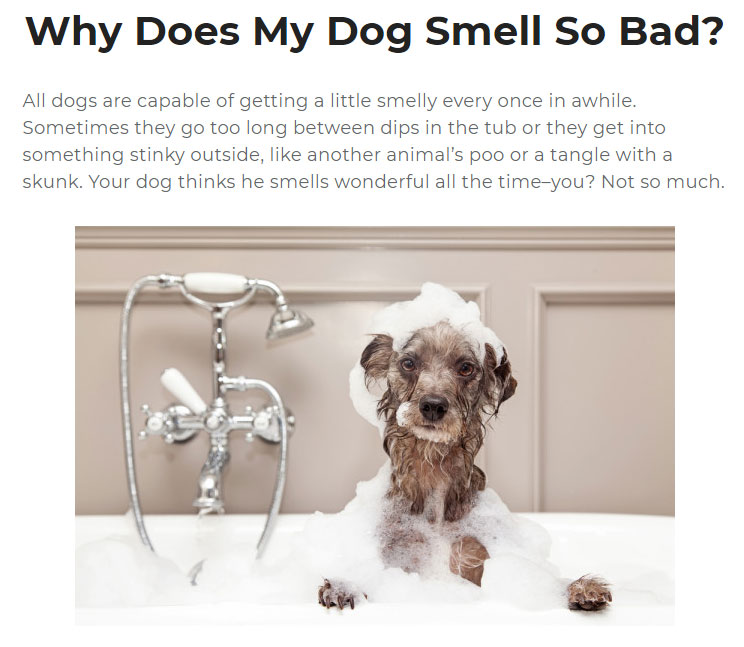 You then send the people who visit your website to an online retailer like Amazon to buy something.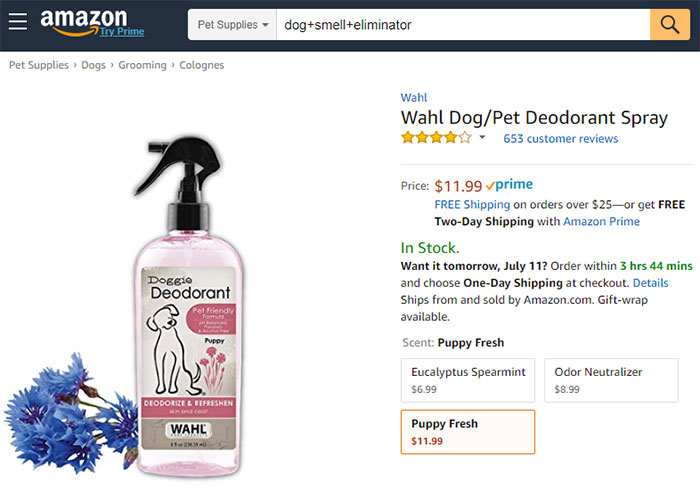 You get paid when they buy.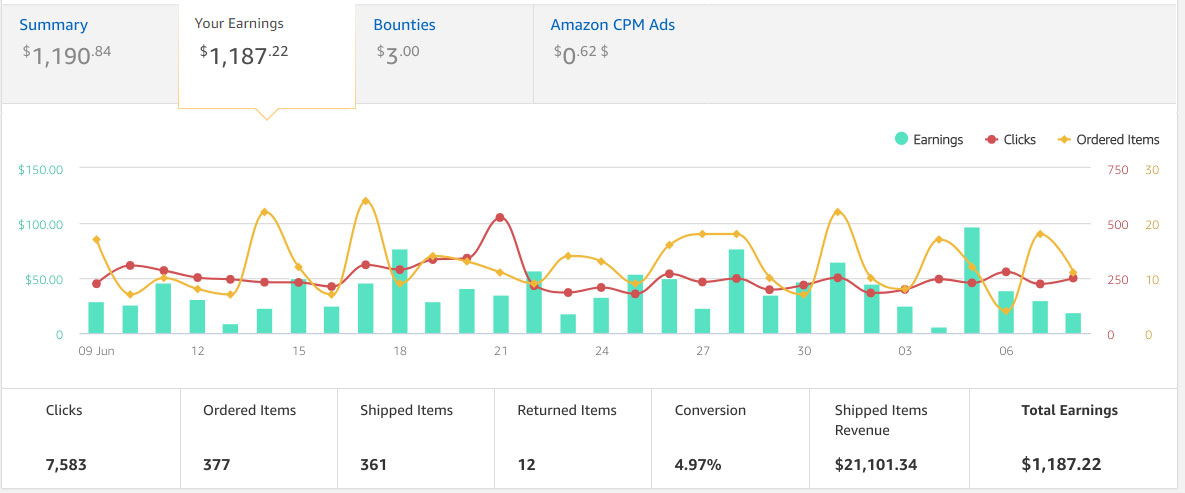 To help you get started, I will give you: the top 20 niche ideas for 2018 plus instructions on how to find niches on your own (worth $100).
PLUS 100 keywords in your niche that I have personally researched myself (worth another $100).
$200 in free material (I'm not finished giving stuff away yet either…) if you decide to start working with me.
Get All the Tools, Training & Support You Need to Build Your Affiliate Marketing Business
If this all sounds good, let's get started!
You should now have a clear idea of the three things you need to start building a business online.
1. An Idea
It's OK if you don't have one for yourself just yet! You don't need one right now.
2. A Website
Remember, building a website is done instantly these days. You do not need any fancy technical skills to get one up and running!
3. Help, Training, & Support
This is the big one!
If you are truly interested in starting an Affiliate Marketing career, you need proper training and the option to ask for help when you have questions.
Here's your solution: Wealthy Affiliate.
Wealthy Affiliate is much more than just a program or a service. It's an online business community that was designed to give beginners step-by-step instructions on how to build an Affiliate Marketing business.
I attribute 100% of my success online to the training, support, and connections found at Wealthy Affiliate.
Everything I've shown you the past few pages is a direct result of my time spent at Wealthy Affiliate. Instead of just telling you about it, I wanted to give you a quick tour of just a few of the features offered.
Here's What Wealthy Affiliate Offers
There are A LOT of features included with a membership at Wealthy Affiliate. Here are some of the most important I've found.
Step-by-Step Training
The training was designed specifically for beginners. It's broken down into actionable step-by-step tasks to help you go from knowing nothing about affiliate marketing to having your very own website up and running within a few minutes.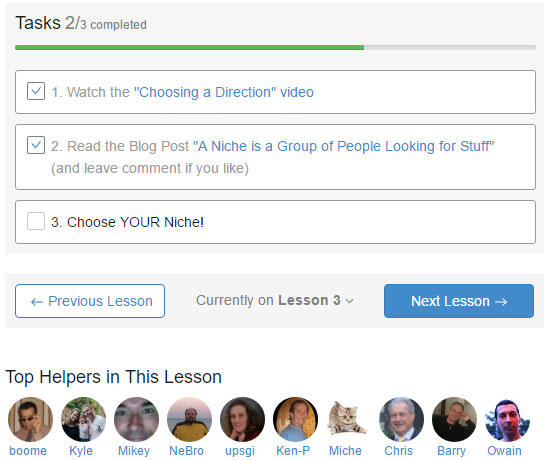 Every lesson of every course is explained in full-detail. Each lesson comes with a discussion section as well. If you find yourself stuck at any point in the training, you can quickly get an answer that will help you move forward.
Super Easy to Use Tools
I've been saying how easy it is to build a website these past few pages. I want to now SHOW you just how easy it is.
Here's the entire website creation form: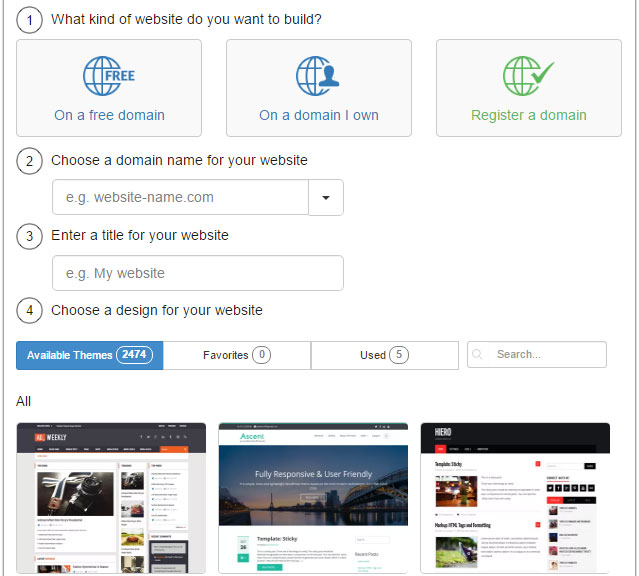 People write to me all the time saying they are interested in creating content online, but don't have the "technical know-how" to get up and running.
It's literally as easy as point and click. All that you need to do is provide the content and that's no different than sending an email or typing out a Facebook status update.
The fact that you're here now reading this page is proof enough that you're more than qualified to start building your own website.
24/7 Instant Support
There are multiple support channels at Wealthy Affiliate.
You can ask questions, create blog posts, participate in discussions, send private messages to other members, and join in on live webinars.
Best of all, there is a live-chat feature that you can use to get instant support from knowledgeable members within seconds.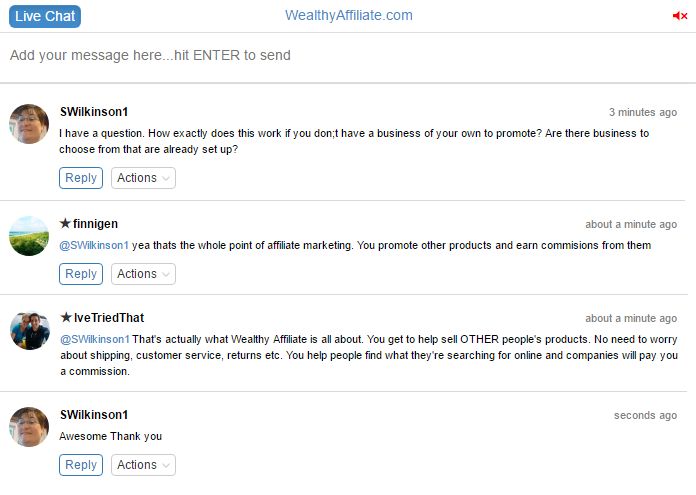 It is active ALL hours of the day and the community is ALWAYS willing to help. If they don't have an answer for you, they'll be able to point you in the right direction.
It's 24/7 Live support and it's by far, the best feature Wealthy Affiliate has to offer.
Best of all, you get unlimited help from me personally.
I stand 100% by my recommendations.
I'm not going to give you a recommendation that I don't use myself.
I am on Wealthy Affiliate every single day of my life helping members develop their ideas, create their websites, and get traffic to their content.
To prove this, here's a screenshot of my current Wealthy Affiliate profile…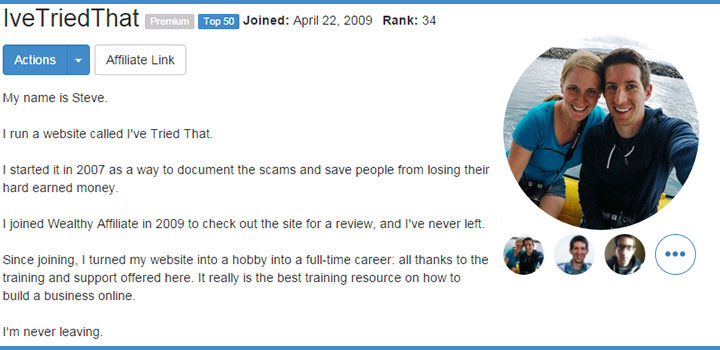 You can see when I joined and my current rank within Wealthy Affiliate. The better the rank, the more active you are. To achieve a rank in the Top 50, you need to be on there every single day.
Just below that is a list of messages people have written to me. Here is a small sample of just a few of the messages I've received from people who have taken my advice and created their own accounts at Wealthy Affiliate.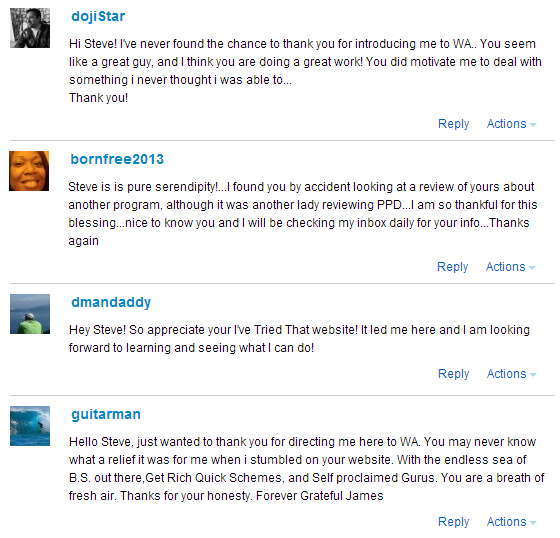 Okay, how much is this going to cost?
Short answer, $49 per month, but your first month is only $19.
Long answer, unlock everything Wealthy Affiliate has to offer for $19 for your first month and $49 per month after. This includes…
Unlimited Access to Live Chat (instant help), Blogs, & Questions
Interactive Getting Started Training
Weekly live webinars to further advance your business
Ability to Network with over 800,000+ members
Over 500+ training resources
State of the art website hosting (This is worth $290/month alone!)
Ability to Ask Questions 24/7/365
Personal 1-On-1 Access to Both Owners, Kyle & Carson
Unlimited help from me personally.
That's what you get with a Wealthy Affiliate membership.
Don't forget what I will also provide for you ON TOP of all of that at NO EXTRA COST.
The Top 20 Niches for 2018 (Worth $50)
My personal niche picking strategy (Worth $50)
100 Keywords that I will Research for You Personally (Worth $100)
That's $200 worth of materials and keywords.
And you get access to ALL of this for just $19 today and $49 per month after.
You won't see an offer like this anywhere else online.
How to Get Started and Claim All of My Bonuses
Remember, if you have any questions, just click on the Messenger button.
You will be connected to me personally.
I don't outsource my customer service. You are talking with me directly.
(That link will open in a new window. Come back when you finish or if you have any questions.)
Click on the big blue button and sign up!
Step 2: Claim My Bonuses
After you create your account and login, there will be a message waiting for you from me titled "Welcome to Wealthy Affiliate! Here are the gifts I promised :)" with links to all of my guides plus directions on how to claim your keyword research pack.
If you don't see it or it hasn't arrived yet, please send me an email at Steve@ivetriedthat.com.
I look forward to working with You!
I only recommend products or services that have made me money.
I've reviewed hundreds of programs for I've Tried That and can count on one hand the number of programs that have actually lived up to their claims.
I joined Wealthy Affiliate in 2009 and it's held my #1 recommendation almost ten years now. I login every single day to help others, grow my own business, and learn something new.
My success online is directly attributed to everything offered at Wealthy Affiliate. I own my own business, I get to travel the world, I spend every day with my wife Amanda and our son Vincent, and I'm not a slave to the 40-hour work week.
Here's us in Hawaii on a whale tour if you need one last kick of motivation.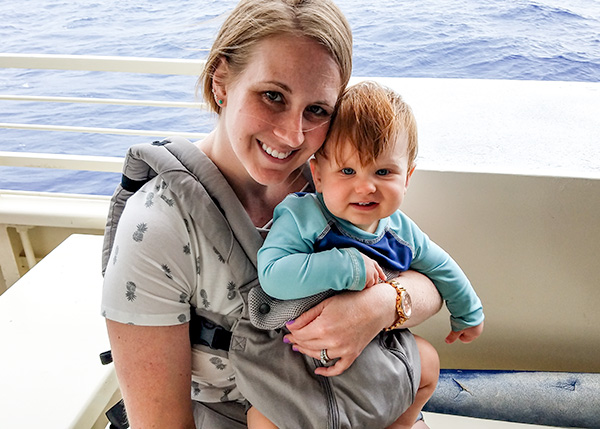 I'll be available every step of the way.
It's up to you now to get started right now!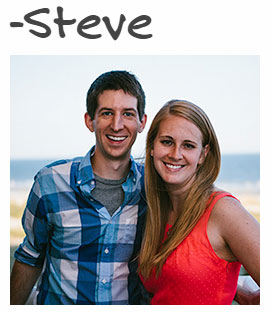 PS. If you're still reading you probably have some questions. Send me one! I'm here to help.
Otherwise, click here and let's get going!