You know that I'm a big believer in Wealthy Affiliate around here. There's a reason for that. I only recommend high-quality programs or products that I believe deliver on what they promise.
Only a handful of products or programs have earned my recommendation, and Wealthy Affiliate is at the top of that list. It promises to teach you all about affiliate marketing from the ground up. No instant cash here, no promise of crazy earnings with little work. Just solid training and good information at a price that is more than fair.
I've been a member for over two years now. I've actually met both of the owners Kyle & Carson in person. I've checked out the materials in detail and I am still convinced that it is the most thorough, easy-to-understand affiliate marketing training out there. It's $47 per month, and for that, you get an education that could very well change your life.
Get In For $1 Today
Starting today, you can sign up for Wealthy Affiliate for $1. Try it out for an ENTIRE MONTH. Previous trials lasted a week, but this one will get you in for 30 WHOLE DAYS. If you like what you see and want to keep learning, pay your $47 for as long as you want to be a member.
If you don't like it, cancel before the seventh day and pay nothing more.
Is Wealthy Affiliate for You?
If you want to learn how to make money online but are not sure where to start, spend $1 to find out.
If you want to learn about a business you can do from home with enormous income potential, spend $1 to find out.
If you are curious but know NOTHING about affiliate marketing, spend $1 for a crash course.
If you don't believe me that a newbie really can do this, $1 will prove it to you.
In fact, I'm so sure that you will agree it was worth $1 to answer whatever questions you had that I'll give you $1 if you disagree. Yep. You sign up for the $1 trial and check it out. If at the end of your trial period you think it wasn't worth your money, let me know and I'll give you your $1 back.
There. Now you can see if there's money in it for you without even risking a lousy dollar! The $1 trial promotion starts today, Friday November 25th and ends on Cyber Monday, November 28th.
Join Today and Receive a Copy of My Top 10 Secrets to Making Money Online Free with your account!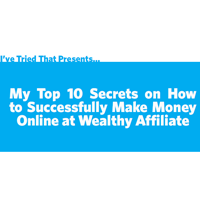 I just finished up a special guide for all those who are interested in giving Wealthy Affiliate a shot. It's a compilation of the ten most important things I've learned since launching my own Internet Marketing career almost three years ago and you can have it absolutely free with your Wealthy Affiliate membership.
This is a special offer for readers of I've Tried That ONLY! You won't see an offer like this anywhere on the web. This is a special bonus that I personally wrote. Create an account, log-in, and the guide will be sitting there waiting for you!
Click here and check out the Wealthy Affiliate homepage
The main page will give you a good overview of what's involved in starting an Internet Marketing business and how Wealthy Affiliate can help you get started. They'll provide the training and the tools, but it's up to you to put their training into action.
Click here and check out the support offered
Did I mention that you get unlimited free support from both the owners and the community as well? Yeah, definitely read this page. (Look for my picture while you're there. I was listed as one of Wealthy Affiliate's most helpful members.)

There's only ONE program I really recommend. It helped me turn my 'hobby' into a $10,000+ per month money making machine. Click here for the exact formula I followed.