I've been a member at Wealthy Affiliate for over a year now and wanted to give you guys an updated look at my progress with the program. I'll tell you more about Wealthy ffiliate and how it has helped me build a successful online business and how you can follow in my footsteps.
I highly suggest you read this one entirely if you're at all interested in learning how to make money online.
What is Wealthy Affiliate?
When I first heard about Wealthy Affiliate, it was pitched to me as a no-nonsense way to learn how to do Internet Marketing. It's run by two guys, Kyle & Carson, and their goal is to teach you how to get started with your very own online business.
I've heard this concept a million times before. I expected their website to be filled with the usual suspects. You know, the obnoxious red header, the screenshots of affiliate accounts that make thousands of dollars per day, the flashy cars, the scantily clad women, explosions, pushy sales tactics, you know, the whole nine yards. But when I clicked through I was relieved to see none of that. In fact, the first few paragraphs were real down to earth and I felt like I was being treated like an actual person and not someone standing around with an open wallet.
Let me quote part of the Wealthy Affiliate page for you…
We have worked tirelessly since 2005 to create the top training facility for "building an online business" and have been in the Internet Marketing business since 2002. No, Wealthy Affiliate is not a "get rich quick" scheme, and no, we will not guarantee that you will be driving a Ferrari within the next six months.
Most other sales pages have the audacity to tell you how easy it is to make hundreds of thousands of dollars online. If you've been a fan of this site for a while or ever tried making money online, you know that's simply just not true. It does take work to make money online and anyone saying otherwise is lying to you for a shot at your wallet. I see it happen all the time. Every day my inbox floods with review requests and it's always the same thing. Some "guru" is claiming he discovered the next secret to making tens of thousands of dollars per month online and now wants to give it away for $27. But act fast, because there are only 2 copies of the DIGITAL eBook left apparently. It was quite a relief to finally come across a program that wants their members to understand this is a life-changing process that involves a bit of elbow grease and a lot of spirit.
So Wealthy Affiliate bills itself as the top online training program for Internet Marketing and claims they will be able to help just about anyone start their very own online business. I want to share with you what I've found out about the program, but first, some background information.
What exactly is Internet Marketing?
Basically, you'll learn how to create websites (don't freak out, I'll explain in a minute) or write articles and sell other people's products for a commission. I know I just said sell, but you won't be doing sales. Bear with me and let me break Internet Marketing down for you to it's simplest form.
Let's say you are going on a trip and you want to buy a new digital camera under $200 to capture the memories. You head on over to Google and type in "best $200 camera for travelling" and start to read through some of the results. You find one page which is a review of a decently priced camera that fits your needs. At the bottom of the review is a link to the camera at Amazon.com. You click the link, buy the camera, and have a wonderful time on your trip.
What you didn't notice is that when you clicked the link to Amazon.com, you clicked on someone's affiliate link. Your experience didn't change and you still got the camera for the same price; however, the person that wrote the review for the camera just received a commission on your purchase. A $200 camera probably just earned them $14 in commissions. Now, that's just one sale. Think of how many billions of searches that are done at Google or Bing or Yahoo and how many trillions of dollars are spent online and you'll begin to realize the potential behind Internet Marketing.
This is a really, really basic view of internet marketing. There's just so much more you can do with it and even more ways to earn money. My absolute favorite thing about Internet Marketing is that you don't have to create a product to sell or take orders or provide customer service. Really, what you'll be doing as an Internet Marketer is writing about topics that interest YOU and finding a way to incorporate other people's products into your articles to sell. You provide a recommendation and can earn a commission any time someone follows your advice.
Now, I can read your mind, you know. You're thinking to yourself "I don't know how to create websites" or "I don't know what I would write about" or "I'm not that good of a writer" or "This sounds too complicated for me." But, I want you to stick with this article and read it to the end and you'll see that these are just irrational fears that you can conquer.
The Pros of Wealthy Affiliate
It is extremely comprehensive and always up-to-date. The training at Wealthy Affiliate will teach you all aspects of Internet Marketing. The training materials are updated frequently and new tutorials are added daily. Members can even create their own materials, share their own secrets and explain to you what works.
You get to use WordPress Express. This is one of the coolest tools I've ever used in my Internet Marketing career. WordPress Express was designed by Kyle & Carson to instantly create entire websites for you within seconds. You fill out the name pick a template, click next, and you're pretty much good to go. You can click here and see the tool in action. But come back for the rest of the review!
Everything is included. There are NO addons, NO upsells, NO extra tools you have to buy, nothing. The point of Wealthy Affiliate is to get you started without having to spend more. Even support and coaching is free. Other training programs only exist to sell you more, but not here.
Access to One-on-One coaching The biggest problem with other training programs is the complete lack of support. Or they may offer support, but may charge you a ridiculous hourly rate. At Wealthy Affiliate, you can send messages to the owners Kyle & Carson and you'll always get a personal, concise response. I've sent them both messages in the past and have always received a reply. You can even ask the community forums for help and have other Wealthy Affiliate members lend a hand.
You're joining a community. Wealthy Affiliate isn't some eBook you download or some video you watch. It's a thriving, bustling community. There are thousands of members all working towards the same goal. You can chat in the forums, make friends, send messages, and just connect with other people. The members at Wealthy Affiliate are some of the most helpful and knowledgeable bunch I've ever come across online.
The Success Forum I wanted to give you an inside look at the "Success Forum" within Wealthy Affiliate. Click here and to pull up a screenshot now. This is just a small handful of people talking about the success they found after joining Wealthy Affiliate. I just want to point out that this is within the members-only forum. These people are sharing their stories of success with other Wealthy Affiliate members. They often explain step-by-step the exact process they followed to achieve their success. The people in the community forum are really incredible.
And the Cons…
Nothing is absolutely perfect, Wealthy Affiliate included. There are some drawbacks to joining the program and I do have some complaints. The first being that there may simply be too much information available. It's a weird complaint I know, but if you're an absolute beginner, you might feel overwhelmed with the sheer amount of knowledge at your fingertips. There's a lot to do and learn within Wealthy Affiliate that you might lose focus. It's best to set clear goals as you begin your training.
Cost to Join Wealthy Affiliate
Wealthy Affiliate usually costs $97/month to join, but they do offer a more beginner friendly membership discounted at $47/month. The main difference between the two accounts is the number of websites you can host and the number of keyword searches you can run. If you're just starting out, the $47/month membership is absolutely perfect. You won't need to host an unlimited number of websites right from the start. As you learn more and want to grow, then you can upgrade to the regular account.
There are no contracts, commitments, or hidden fees. If you want to leave Wealthy Affiliate, you can login and cancel your account at any time. There are instructions on how to do this right in the member's area. You don't have to talk to anyone or anything. Just login, cancel, and you'll be done.
I know I probably just scared away half of you with a mention of price and you're probably thinking one of two things right now. The first is, "why should I have to pay to start an online business?" or "how long will it take for me to make money?" I can answer both of those for you.
Why do you have to pay?
You want to start your own business right? Think of how expensive this would be to do if it wasn't an online business. First you'd pay to go back to school or to learn a new skill or trade. Then you'd have to pay to open a store or rent office space. You'd have utility bills, employees to pay, inventory to stock, and so much more. You'd be spending years of your life and tens of thousands of dollars just to get started. Who knows how long it will take for the business to become profitable? There's even a chance you could go under before seeing a dime leaving you hundreds of thousands of dollars in debt. The great thing about Internet Marketing is that you can get started, right now, without having to commit so much time and money.
How long will it take to start making money?
This is the hardest question to answer because there are a ton of factors that come into play. Most Wealthy Affiliate members start making money within their first few weeks. I've seen some posts in the community forum where people are earning just days after starting. It is a good idea to set aside some time to learn though. Remember that you are trying to build an online business. The best part about it all is that you will make money while you're learning.
Just know this, when you join Wealthy Affiliate…
You will be working to build your own online business. Forget working the 9 to 5 and slaving away under a miserable boss to make someone else rich. Learn how to work for YOU.
You will have your very own website up and running within your first week regardless of your technical experience.
You will have access to unlimited support. The owners of Wealthy Affiliate will personally help you and respond to your questions.
You will be joining a community and collaborating with thousands of other like-minded individuals (including me personally!) all working to achieve success online.
You will have access to all updates and changes at Wealthy Affiliate without ever getting charged more.
How I've been using the program
Now, my experiences with the program may differ from yours. I knew a little bit about Internet Marketing before joining. I knew the basics and understood the concepts, so I didn't really follow the action plan or beginner tutorials. I jumped right into the meat of the program.
I absolutely love the members-only forum. Every day thousands of people fill the forums with new methods to making money online. It's really a goldmine of information in the forum alone. I like to be able to login and collaborate with other members. I also like to spend some time answering questions and helping other people if they run into problems. It's a great way for me to exercise what I know and spend some time thinking up new ideas to implement.
I've viewed a ton of video tutorials as well. I'm a very visual learner, so being able to physically watch someone else work has been a huge help. Wealthy Affiliate runs live webinars a few times a week as well. Live training feels just like sitting in at an online class.
But the absolute biggest benefit for me was being able to connect with other Internet Marketers. I've met some of my closest Internet Marketing friends through Wealthy Affiliate and regularly talk to them or even get together over dinner to discuss ideas and the future. Some people I talk to regularly are Ryan Moran from eTycoon, Eddy Salomon from WorkAtHomeNoScams, Jennifer (aka PotPieGirl), and Jay the guy behind the Wealthy Affiliate webinars. Without these people, I don't know where I'd be in my life right now. I might have even given up on Internet Marketing. But I was able to meet them and talk to them through Wealthy Affiliate and for that I am eternally thankful.
My Earnings Since Joining Wealthy Affiliate
I wanted to share with you an inside look at a few of my personal affiliate accounts and give a little information about each of them to help you better understand how Wealthy Affiliate has helped me make money online.
Let's start with…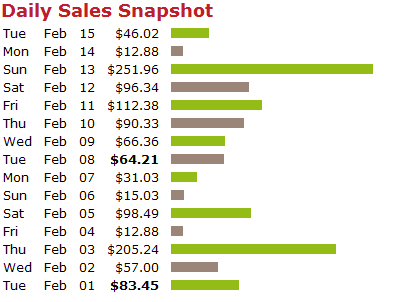 I'll save you the trouble of adding that up. It comes out to $1,243.60. That's over a thousand bucks over a two week period. These earnings all come from ONE SINGLE article I wrote OVER TWO YEARS AGO. Yes, you read that correctly. That one single article has been consistently making this kind of money for over two years now. It took me only a few hours to write.
I used a few article marketing training guides at Wealthy Affiliate to help me write a compelling article and learned how to properly promote it and drive traffic to it. This was one of my first "big ideas" and has been a cash cow for me ever since.
Next we have…

This is a screenshot of my Amazon affiliate account for the month of January. All of these earnings come from a deal website that I run. I scour Amazon.com looking for big discounts on items. It takes me about 5 minutes to update each morning and hundreds of people visit it each day looking to save some money. I get paid every time someone clicks on one of the deals I posted then buys ANYTHING at all at Amazon.
The idea for this site came from the Wealthy Affiliate forum. A few members were talking about how to make money with Amazon's affiliate program. Since I love online shopping and saving money, I decided to create a website to help other people do the same. It's been a huge hit and it's one of the easiest ways I'm making money online.
Finally we have…

This last screenshot is just a small snippet of my personal Gmail inbox. I recently wrote and released my own guide to sell and it's been moving quite well. I did a search for all of the payment notifications and you can see the search returned thousands of results.
The guide has been my biggest success thus far and I used a combination of a ton of different Wealthy Affiliate guides to help me write it and promote it. I was also able to get in contact with other Wealthy Affiliate members who had experience selling products and was able to pick their brains and ask questions. These were people who make millions of dollars online each year and they were personally helping ME. I never would have been confident enough to write my own guide, nor as successful at selling it, if it wasn't for the help at Wealthy Affiliate.
This has just been a small sample of just a few of my earnings. I wanted to give you a personal look into a few things that I'm doing to make money online and give you some proof that yes this stuff actually does work.
My Personal Tips for Success
Find some support first. Before you even join the program, make sure you can find someone to support you. Let them know you're trying something new and will be working towards learning how to make money online. If you can't find support at home, feel free to send me an email. I'll be more than happy to assist you any way I can.
Start with the Action Plan. The owners of the program have developed a guide that is absolutely essential for beginners to learn the basics of Internet Marketing. Learn these techniques before moving on. There are a ton of introductory video tutorials that well help you get started as well. Just start with the basics and you'll be okay!
Fill out your profile and introduce yourself. One of the coolest features of Wealthy Affiliate is that it's a community. You need to join in if you want to have any chance at succeeding. Fill out your user profile then head to the forum to make an introduction post. Give a few details about who you are and what you wish to accomplish and you'll be able to meet a ton of other cool Wealthy Affiliate members. You can even add them as friends. Let me know once you join because I'd love to hear from you. My username is IveTriedThat.
There are no stupid questions. Honest! We all had to start somewhere. If you come across a concept you don't understand, ASK someone about it. Ask a community member or send an email to Kyle or Carson. You can even send me a message! I promise you'll get an answer. It's best to be specific in your questions though.
Set goals and celebrate your success. You're about to start an online business from the ground up. You need to set achievable goals and work towards them. Start small and don't focus on money right from the start. Your goals should largely knowledge based for the first few weeks. Set a goal to learn how to create your first website. Then set a goal on getting a few of your articles to show up on Google. Then set a goal to learn howto connect with advertisers. From there you can move up to monetary goals. Set a goal to make $1.50/per day (the cost of your Wealthy Affiliate membership), then $100/week, then $500/month and so on and so forth. Small and achievable goals are the absolute key to success.
The Bottom Line
If you've made it this far, you should have learned quite a bit about Wealthy Affiliate and Internet Marketing. I really wanted to give you my honest views on the program and offer some insight into what I feel is the best possible training program for beginners.
So, do I recommend Wealthy Affiliate? Absolutely yes. It's one of the very few make money online type programs that I feel absolutely confident in recommending. If you've been following this site for a long time, you'll know that a positive review like this one is rare at I've Tried That. I'm normally warning readers about scams, but boy does it feel good to be able to find something good once in a while.
If you're ready to get started, you can click here and create an account right now. Seriously, add me as a friend once you join. Send me a message and introduce yourself as well.
If you have any questions before you get started, you can click here and read through the WA FAQs. Odds are, your question will be answered there. You can also leave a question in the comments below!