I've Tried That reader Alfa, who recently profiled our site on her blog, Flood of Dollars, suggested that we take a look at Cash Crate, another site claiming to pay you for trying companies' products and services. I signed up. Here's what I found out.
Join These for Some Quick Wins
Survey Junkie - The #1 survey site that doesn't suck. Short surveys, high payouts, simply the best.
Daily Goodie Box - Get a GIANT box of free samples to test out and try shipped right to you at no cost!
Nielsen - Download their app and get paid $50!
Cashcrate.com functions on the same premise as Inbox Dollars and Fusion Cash: sign up for promotional memberships and offers and get paid a small fee per sign-up. It also has a referral program so that you can get paid for the offers and memberships of people who sign up "under" you.
I like cashcrate better than Fusion Cash just because it is less obnoxious in its promotional graphics and text and because the site is faster loading. You go to the members area and can choose from offers using simple text, not full-on logos like Fusion Cash uses. The screen shot shows only the first nine of many, many offers. The site also warns you which offers require a credit card to sign up for, a nice feature.
I spent an hour taking surveys and signing up for offers at Cash Crate and have earned about $3.50. At that rate, it would take me a lifetime to earn a crate full of cash unless it's the size of a Tic-Tac box. Cash Crate pays out at $10, so I'm sure someone with more time and patience for advertising than I have could make some pizza money. Good for students, maybe? It could definitely supplement the Taco Bell fund. If you spent enough time with it, you could probably learn to work its system faster than I did and therefore make more than $3.50/hour. If you're looking to make more than just pocket change, though, I suggest spending your time elsewhere.
How Does Cash Crate Compare?
I did a review of a program called SwagBucks a few months back and just wanted to give you guys a little update on my progress, show you how much I've actually made with the program, and give some tips on how to quickly start making some money with them.
A quick overview: the concept behind SwagBucks is that they'd pay you for using their search page to browse the web. They make money through Google's sponsored results and then pass some of their earnings on to you in the form of SwagBucks. You can also make money by filling out surveys, shopping online, watching videos, and many many more ways.
All you have to do is use their search page and every so often, you'll be awarded SwagBucks which you can redeem for cash or gift cards.
The best part is the SwagBucks search bar uses Google, so you'll get the same results you're used to, but now you have a chance to make some extra money. It takes no extra effort on your part either. It's a fun way to make some extra money each month.
And you can join today and see for yourself why I rate this program so highly, absolutely for free. Plus, you get a free $5 bonus just for signing up.
There are a lot more ways to earn, but searching is by far the easiest and the quickest. You'll see the other ways in just a minute, but first…
Proof SwagBucks Actually Pays
Here's an inside look at most of the orders that I've placed with SwagBucks since I've joined. This is a look inside my own personal account. I've cashed out and received $890.00 worth of gift cards so far.
Now, there are thousands of items you can spend your SwagBucks on or you can even redeem them for cash. I chose the giftcards because they're a little bit cheaper than the cash redemption so you get more value for your SwagBuck, so to speak. Plus, I shop at Amazon often and this really helped cut down on costs.
Here's a look at my total earnings so far:

1 SwagBuck roughly equals 1 penny. So I've made approximately $928.78 since joining!
And here's a look at just some of my rewards so far!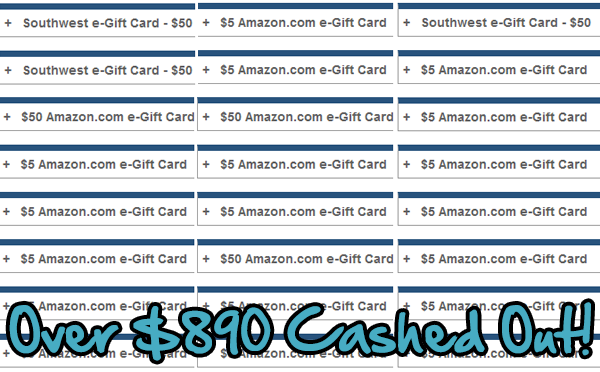 Oh, and did I mention this was all free?
The Bottom Line
SwagBucks is a scam free way to make extra money online. It's an excellent alternative to Cash Crate and you'll make money much faster. I've been a member for about six months now and I've been paid over $890. It's completely free to join and will help you bring in some extra cash by doing things you already do online. What more could you want from a program?!
SwagBucks is awesome and I highly recommend you click here an create an account right now. You get a $5 bonus offer just for signing up.