Wow, it feels like only yesterday I was posting about the worst scam attempt ever. Here we are a whole… 24… hours… later with another scammer who wants a crack at the title.
Over at the Consumerist, they wrote a post featuring an attempted fake check scam that used the McDonalds name and the "French Fry Trust."
A friend who works for Wells Fargo passed this scam check along, from a company calling itself "McDonalds French Fry Trust." The check is accompanied by a letter that asks victims to pay $945 to the sender as a commission after the check is cashed.

What would likely happen if you went through with the plan, one imagines, is that you'd deposit the check, get stung with a bad check fee and lose the $945 on top of it.

Also, folks, remember the Hamburgler is not the wallet inspector. That would be Grimace.
And a copy of the check…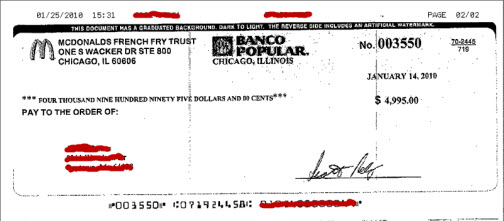 I wouldn't have believed the story if there wasn't an actual picture of the check. Do we have a new worst attempt at a scam ever? What do you guys think?
Read more: The Consumerist – No, McDonald's Is Not Trying To Give You $5K
There's only ONE program I really recommend. It helped me turn my 'hobby' into a $10,000+ per month money making machine. Click here for the exact formula I followed.