Phishing scams aren't new, but scammers are finding new and creative ways to steal your identity. This particular scam pops up each year around this time and it preys on the downtrodden.
This scammer is using the guise of the IRS and stimulus payments to gather banking information from victims. Here is an example email.
From: Internal Revenue Service U.S.A. <2010refund@refunds.com>
Sent: Sat, Feb 13, 2010 9:30 am
Subject: Spam: Important Notification

Dear Applicant:

After the last annual calculations of your fiscal activity we have determined that you are eligible
to receive a tax refund of $1480.23.
Please submit the tax refund request and allow us 3-6 days in order to process it.

A refund can be delayed for a variety of reasons.
For example submitting invalid records or applying after the deadline.

Please submit the form attached to your email in order to complete your tax refund

Note: For security reasons, we will record your ip-address, the date and time.
Deliberate wrong inputs are criminally pursued and indicated.

—————————————————————————–
Regards,
Internal Revenue Service

Copyright 2010, Internal Revenue Service U.S.A. All rights reserved.
The email contains a link to an exact replicate of the IRS website with the following form embedded…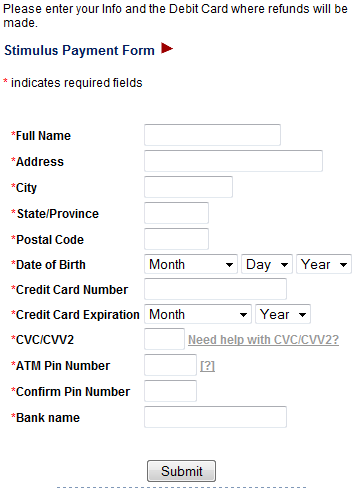 However, filling out that form is bad, bad idea. This is nothing more than a phishing scam and if you were to fill out that form, you'd have your identity stolen. Whoever created that webpage will have full access to your entire personal life, including banking information and credit cards.
You'd be surprised at how careless some people can be with such sensitive information. Yes, free money sounds great, but you can easily lose all you have. You can protect yourself by simply keeping your personal information private.
There's only ONE program I really recommend. It helped me turn my 'hobby' into a $10,000+ per month money making machine. Click here for the exact formula I followed.