I've written before about how you can recognize hook ads on Craigslist and other job directories. A hook ad is one that pretends to be offering a job, but is actually selling you something like a paid membership or an ebook. Once you have the basics down, you can recognize these ads in a matter of seconds in most cases.
They're ALL scams (except this one)
Lots of web sites exist that do the same thing or something close to it. They claim to have tested "all the offers out there and guess what? Most of them are scams. EXCEPT for these five programs that actually do pay you." They have "teams of researchers" or an individual who has tested hundreds of programs and is now going to share the secret of which ones are legitimate. They often turn up in the sponsored areas of Google searches, in ads in your email window, and as Adsense ads on [ahem] sites that discuss the work-at-home niche. [Disclaimer: We have no control of which Adsense ads appear on I've Tried That. I'm just sayin.'] After these sites warn you about the scams, they'll tell you warm stories about the few legitimate internet-based businesses that they found and will now share with you. For Free! Some of them link directly to their list, some show you the banners for their approved sites so you can link immediately and get started on your new life, and some first capture your email address and then email you the goods.
B.S. URLs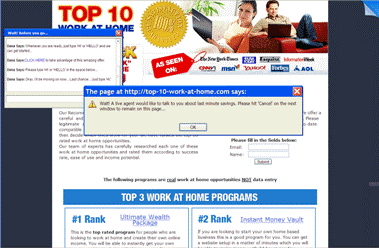 These sites are recognizable by cheesy stock photography, such as attractive people kicking back with their laptops, or manly men endorsing "Jessica Miller" of workathometop10. (Wanna know the real reason manly men endorse "Jessica Miller?" Do a Google image search on her and you'll understand.) You can also spot them by their urls, which usually contain words implying "scam free" or that the jobs have been "checked out." I affectionately call them B.S. urls. For our international friends, "B.S." is an abbreviation for the American English term of endearment, "Bunny socks." Whenever we're disgusted with something or know that something is not true, we say "Bunny socks." Get it? Because bunnies don't wear socks! It's funny! There is no need to click. Just hover over the link that's calling to you and if you see words in the url that are anything like the following, don't waste your time.
fully-researched-home-jobs.com
workathometop10.com
highest-paid-online-jobs.com
top-10-work-at-home.com/ (This one is my personal favorite. Try to close the window and you get a pop up ad that you have to address before you can do anything else. It seems Dana wants to chat. For this reason, this site gets the hall of shame photo spot in this post.)
Do you see the pattern? The urls are meant to inspire confidence. "Hey," the naive reader thinks, "it says right here these are the highest paid work-at-home jobs available! And they've been fully checked out! Yesssss!" The I've Tried That reader, on the other hand, sees "fully researched" in the url and thinks, "Fully researched? That's bunny socks. You "researched" to see which ones would bring the highest affiliate pay!" You guys are a skeptical lot. Makes me so proud!
Why is the info free?
I'm going to have that question tattooed on my forehead. (Or better yet, on Steve's.) It's the first question you should ask yourself. These sites can give information away for free because they're drawing hefty commissions on scam programs that we've already exposed here—data entry jobs, primarily, with some web-based product sales thrown in. You're just prospects to them. Let me make you a promise. I spend lots of time reading about online work and signing up for crap. When I find the job or business that will make you as much money as you want, GUARANTEED, I'll sell the secret to you at a high price so you'll know how valuable it is. "You get what you pay for" is as true in the online world as it is offline. Tomorrow's post will show why Steve and I are passionate about scambusting with another true story in our series, "I was scammed: tales from the trenches."