Before I start this InboxDollars review, let's put the facts on the table:
Join These for Some Quick Wins
Survey Junkie - The #1 survey site that doesn't suck. Short surveys, high payouts, simply the best.
Daily Goodie Box - Get a GIANT box of free samples to test out and try shipped right to you at no cost!
Nielsen - Download their app and get paid $50!
We all read emails.
We all love money.
It would be really awesome to get paid to read emails.
InboxDollars promises just that and they even go as far as to make the claim that 'Money really does grow on trees.' But just how accurate are these claims? Can you really get paid to just read emails? We wouldn't call ourselves professional product and program testers if we didn't give you an answer to these questions.
You can make money, but that doesn't mean you necessarily will make money.
Each email that you read will net you anywhere between 1 to 10 cents. But these aren't emails you would normally want to read. They're advertisements for various programs or products that would result in InboxDollars making hefty revenue if you followed through and signed up for the program. Aside from emails, you can also "get paid" to play games, sign up for surveys, sign up for programs, shop, and search the internet.
What you aren't told is that you will need to start spending money first and you'll receive a measly percentage back on your spendings. This is the hidden truth behind their "get paid to" claims.
Take for example, this "Deal" offered for LifeLock. You get paid $20 if you spend anywhere from $120 to $324 for a LifeLock membership.
Okay, sure, this might be a deal if you are actually interested in their service and would like some money back, but for 99% of users this "deal" is completely meaningless.
My Results
I've been a member for about two weeks now and I have received 14 emails for a total of $0.40 cents. That's a little less than 3 cents per email. If we take into account the $5.00 sign up bonus and the $1.00 introduction survey, I will need to read approximately 857 more emails.
At the current rate of 1 email per day, I'm looking at over 2 years of reading email just to receive my first $30 check. I don't know about you, but I have better things to do than click on an advertisement once a day for the next 2 years just to receive $30.
You make a lot of progress really fast early on, but according to our readers in the comments below and some of the reviews we've seen around the web, emails start to slow when you approach the cash out mark.
Even worse, there are reports of accounts getting closed right when they are ready to cash out. We can't confirm these reports and InboxDollars does reserve the right to cancel your account if you violate their code of conduct.
The Real Source of Funds
At this point, you're probably asking yourself how could they possibly make money by sending out emails. I decided to look into a few of the programs that are heavily promoted throughout the site. Take for example, eBay. InboxDollars will pay you $6.00 to sign up at eBay and place a bid. Not bad right? Wrong. They're making anywhere between $25-$35 every time a new user signs up at eBay and places a bid.
Stamps.com is also heavily promoted at a $10 bonus just for signing up for their free trial. However, in the event you forget to cancel the free trial after a couple of weeks, you will be billed $15.99 per month and InboxDollars makes $50.
Stay far away from any free trial offers. That is where you will most likely lose a lot of money.
It sounds like users are getting the short end of the stick while InboxDollars laughs all the way to the bank.
I've tried that and I don't like it.
If you have nothing better to do than to read emails (read: view advertisements) for the next few years, then by all means sign up and get started. I do feel that doing anything at InboxDollars aside from reading emails is a recipe for disaster.
In an extreme case, suppose you sign up for the Stamps.com free trial and forget about your account. In a month you will be billed and in the event that you refuse to pay you can have your account forwarded to collections which could have a disastrous effect on your credit score.
This result could yield hundreds, if not thousands, of dollars in damages all for a measly $10.
Personally, I'm closing my account.
Want some extra cash in your pockets?
No joke. Here are the fastest ways to make easy money online. Click here to see how.
How Does Inbox Dollars Compare?
If you're looking for a decent alternative, I would highly suggest looking into SwagBucks. I've reviewed them a few months back and I've actually made money and was able to cash it out. and give some tips on how to quickly start making some money with them.
SwagBucks does pay you to do a number of things, watch videos, play games, answer surveys, but my favorite is that they pay you just to search the web. SwagBucks gets paid by sending you Google's sponsored results and, as a thank you, sends some of their earnings back to you.
I've switched my main search engine to SwagBucks. They are using Google's results, so you are still seeing the same exact page you'd see if you searched Google directly. But by going through them first, you can earn some extra money.
I highly suggest that you create an account today. You'll quickly see why I recommend SwagBucks over InboxDollars. Plus, you get a free $5 bonus just for signing up.
SwagBucks Pays: Here's Proof
I can't make a recommendation without offering a little bit of proof that it actually works.
Here's a look at my total earnings so far:

1 SwagBuck roughly equals 1 penny. So I've made approximately $928.78 since joining!
And here's a peek at my personal cash outs.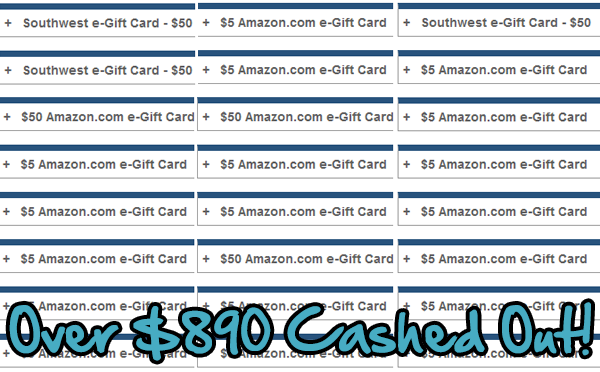 You can redeem your SwagBucks for a number of things, but I've found it's best to go for gift cards at places you normally shop. That seems to get you the most value for your "SwagBuck" and if you are as addicted to Amazon as I am, it's a great way to lower your credit card bill.
That's right. I've been able to make over $900 and it didn't take over 2 years of clicking links in emails.
The Bottom Line
If you've gotten this far, by now you should realize I'm not a fan of InboxDollars.
There are better alternatives out there that have proven track records.
I'd suggest you stick with something else.