With Thanksgiving, Christmas, Hannukah and the New Year all coming up the next two months, it's an understatement to say that this time of year is stressful. It's even more stressful when you are short on cash for the endless gifts and snackables required to get you through until January hits.
However, aside from taking a second or part-time job, how can you ingeniously make a few extra bucks in your spare time, and just in time for the holidays? Here are some methods you may not have considered but which make money.
1. Change your search engine.
Bing Rewards is just one program that pays you to search online by using the Bing search engine. You collect points while using the Bing search engine, and then cash out those points for gift cards or gift credit cards.
Bonus: Make $5.00 in the next 2 minutes
Swagbucks also offers a similar rewards program for using their search engine. In fact, I was able to cash out over $890 in rewards through SwagBucks.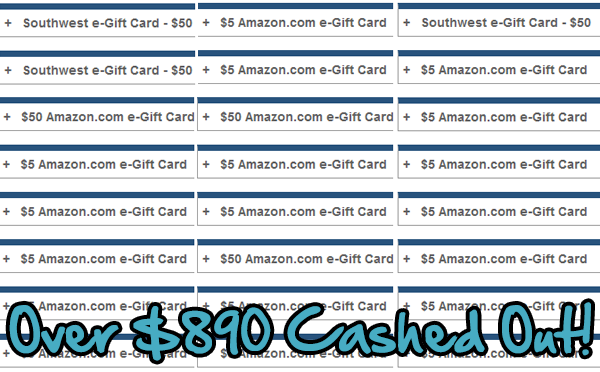 SwagBucks also offers a $5.00 sign-up bonus for new accounts. Create your free account today!

2. Download and use mobile apps.
There are many mobile apps that pay you to take surveys, perform tasks like watching videos, and submit photos, including Swagbucks. What's great about mobile apps is that you can use them while on-the-go or waiting in line at the store; in other words, you can use your non-productive time more productively and actually make money.
3. Go mystery shopping.
You may not have expected to actually make money while shopping; however, many retailers work with mystery shopping companies to check on their shops and franchises. You can often buy something at these retailers and get reimbursed later for your purchase, after you've submitted your report. As a bonus, you'll also earn extra money for your troubles.
Mystery shopping companies include HS Brands International, Trendsource, Inc. and Service Excellence Group, Inc.
4. Sign up for a new bank account.
Many banks offer some lucrative deals for signing up for a new bank account. Chase Bank currently offers $150 or $100 if you open a new checking or savings account, respectively. Open both accounts and you score $250.

If you have some extra money to deposit, Discover Bank offers a $100 bonus on a savings account that has a $10K deposit, plus 0.95% APR.
If you don't have a lot of cash to deposit, Santander Bank offers a $150 bonus for new checking accounts with as little as $25. You will need to set up direct deposit within 90 days.
Most banks, especially those online, offer some kind of financial incentive to open a new account with them, so don't forget to ask before transferring your money over.
5. Have a Facebook garage sale.
You no longer need to wait until summer to have a garage sale. In fact, you don't even need a garage. Facebook has a Garage Sale Marketplace that is city-specific and enables its members to sell their stuff year-round.
To get started, go to your Facebook account and type in keyword strings such as "Toledo (or whatever your city is) online garage sales/marketplace/electronics/auto sales/etc." " into the Facebook search bar. You should see some groups populate your page. These groups are private, but you can request to join them. Once approved, you can start uploading your own items to sell.
6. Sell your crafts online.
Sites like Etsy and Bonanza, which sell homemade crafts, have really taken off since they were first launched. In fact, the idea of an online craft show has become so popular that Amazon recently launched its own storefront, called Handmade.
If you are already making holiday crafts for your friends and family members, consider making extra items and putting those up for sale online. At the very least, you'll break even on supply costs for the gift items you made. Alternately, you might end up making a profit on your extra crafts- and even launching a new business.
7. Perform online research.
Recognizing that some user search queries require more than a simple Google-generated result, online research sites like JustAnswer, HelpMe, AskWonder and Experts123 pay online researchers to locate and input answers. Sometimes this work is deep Web or technical in nature and requires a few references. Payment ranges from 50 cents to $8 per correctly answered and referenced question.
8. Sell your photos.
Content and retail sites are always in need of quality photos, and if you have a decent camera and a good eye, you can make a decent side income by taking and selling stock photos on sites like Bigstock, Dreamstime and Shutterfly. However, even if all you have is your mobile phone for taking photos, there are mobile apps that pay you for those snapshots as well. Apps like Foap, Stockimo and Snapwire can be installed and used to organize mobile-snapped photos, with the better ones getting featured in these apps' marketplaces.
9. Review and rate websites and apps.
Website developers and programmers usually work with reviewers, either in-house or off-site, to build and test websites and mobile sites and apps. Thus, websites like TryMyUI, Userfeel, Userlytics and UserTesting have been growing their review platforms in an effort to help businesses ensure that their online/mobile tools are usable.
You can make some decent side cash (up to $15/review) by signing up with and then regularly checking in with these review platforms.
Making money online has never been easier...
And this free video will show you exactly everything you need to do to get started. Click here to watch it now.
10. Complete microjobs.
As you're going about town and running errands, you can "double dip" and get paid for your efforts by completing the same tasks for someone else. This is accomplished by logging into microjob sites such as Agent Anything, GigWalk and TaskRabbit and offering to complete job requests such as standing in line for movie tickets or picking up dry cleaning.
If you aren't that mobile or live away from major cities where microjobs are the most prevalent, there are online task sites you can work with as well. For example, Amazon's Mechanical Turk and Clickworker pay you for completing simple online tasks like editing website content or posting an announcement to your social media page.
Need more ways to make extra money?
I've covered additional ways to make money online in my review posts here:
Need Extra Money for the Holidays? Here are 10 Work from Home Jobs & How to Earn Extra Money with Mobile Apps