These are just two guides I've been working on in my spare time. Both focus on Internet Marketing and building your own online business. If you're more interested in telecommuting, these guides might not be for you and you can click here to check out my 121 Jobs Report instead. It's a great resource to help you get started.
On to the two new guides…
A Beginner's Guide to Making Money Online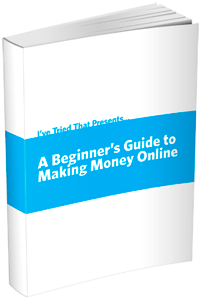 I've been working on this guide on and off for the past few months. It's still very much a work in progress, but it's a point where I feel comfortable to release it into the wild.
This guide serves as an introduction into Internet Marketing and will help you understand a little more about affiliate marketing and how you can start building your own online business. I go into a little more about who I am, what I do, and how I'm making money online as well. There are a few other tips thrown in there to help protect you from getting scammed as well. Highly recommended if Internet Marketing is something that interests you.
There is an opt-in for this guide meaning you will be subscribed to the I've Tried That newsletter. If you're already on my list, you can still take advantage of this offer.
Click here to download my Beginner's Guide to Making Money Online.
My Top 10 Secrets to Making Money Online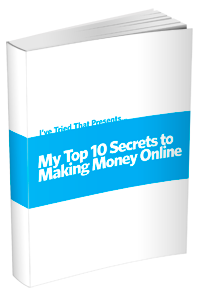 This is a special guide that was designed specifically for Wealthy Affiliate members. This means you have to either be a current member or you need to sign up at Wealthy Affiliate to receive the guide. There's no extra cost to receive this guide.
This guide is a compilation of the ten most important things I've learned since launching my own Internet Marketing career almost three years ago and you can have it absolutely free with your Wealthy Affiliate membership.
This is a special offer for readers of I've Tried That ONLY! You won't see an offer like this anywhere on the web. This is a special bonus that I personally wrote. Create an account, log-in, and the guide will be sitting there waiting for you! If you are already a member and would like a copy, send me a message at Wealthy Affiliate and I will gladly send you a copy of free of charge. My username is IveTriedThat and you can find me in the member's area.
Click here to check out Wealthy Affiliate and take advantage of my bonus.
(You'll see the bonus on the order page)
That's what I've been busy with these past few weeks. Let me know what you think!
There's only ONE program I really recommend. It helped me turn my 'hobby' into a $10,000+ per month money making machine. Click here for the exact formula I followed.